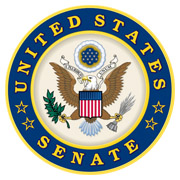 Washington, D.C. – On Tuesday, May 21st, 2019, U.S. Senators Marsha Blackburn (R-Tenn.), Chuck Grassley (R-Iowa), Tom Cotton (R-Ark.) and Josh Hawley (R-Mo.) introduced S. 1561, the Accountability for Care of Unaccompanied Alien Children Act to protect children from being trafficked at the southern border.
At a 2018 Senate Permanent Subcommittee on Investigations hearing, a Department of Health and Human Services' official admitted the agency lost track of nearly 1,500 unaccompanied minors after their release from federal custody over a three-month span in 2017.
This bill has three objectives to stop this problem:
Protect children in HHS custody from falling victim to traffickers;
Codify the existing agreement between HHS and the Department of Homeland Security to screen sponsors for criminal records or trafficking history; and
Affirm the continued authority of law enforcement agencies to investigate any criminal conduct committed by the adult sponsors.
"The U.S. has the responsibility to ensure an unaccompanied child in the care of HHS is placed with a responsible adult who will keep them out of harm's way," said Senator Blackburn. "This bill will promote greater information sharing between HHS and DHS, and hold them accountable in ensuring those placements are done with the child's best interest."
"All children deserve safe homes, regardless of their immigration status. We've known for a long time that background checks of potential sponsors for these children need improvement. We need to know that we are not placing these children with criminals or predators. This bill ensures that government officials have access to all available information about potential sponsors before entrusting them with the care of a child," Senator Grassley said.
"When unaccompanied children are caught being smuggled into the United States, they often remain in government care until we can place them with an adult sponsor or resolve their immigration status," said Senator Cotton. "However, some adults who claim to be sponsors are actually criminals engaged in trafficking, child labor, or prostitution. Our bill would require proper vetting for potential sponsors and other members of their households so these children aren't exploited."
"Human traffickers and criminal gangs continue to exploit our broken immigration system by smuggling children across our border," Senator Hawley said. "This critical legislation will ensure that law enforcement at the border has the authority to prevent unaccompanied minors taken into federal custody from being released to sponsors who are criminals within the United States."
Sections
Politics
Topics
Accountability for Care of Unaccompanied Alien Children Act, Chuck Grassley, HHS, Josh Hawley, Marsha Blackburn, Senate, Tom Cotton, U.S. Department of Health and Human Services, U.S. Department of Homeland Security, U.S. Senator, Washington D.C.