Marion, IL – Austin Peay State University (APSU) baseball's third baseman Gino Avros hit his first collegiate home run but the Governors saw their season come to an end with a 8-4 loss to Morehead State, Saturday, in the Ohio Valley Conference Baseball Championship at Rent One Park.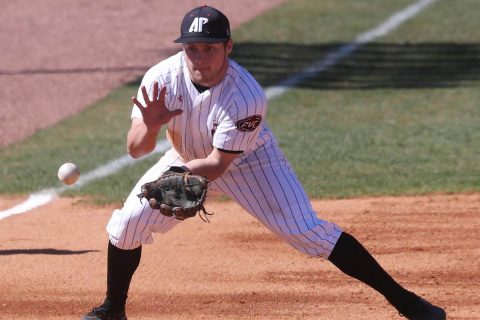 Following the tournament's conclusion, left fielder Aaron Campbell and right fielder Parker Phillips were named to the OVC All-Tournament team.
Campbell set an Austin Peay record with 12 RBI during the tournament while batting .500 (9-for-18) with three home runs. Phillips batted .471 (8-for-17) with a double, home run and two RBI.
Morehead State (40-20) struck first with a pair of runs in the first inning. After a leadoff double and one-out walk, center fielder Connor Pauly drove in a run with a sacrifice fly. First baseman Trevor Snyder followed with a run-scoring double and the Govs faced a 2-0 deficit.
Austin Peay would get one of those runs back in the third, taking advantage of first baseman John McDonald's leadoff single. A sac bunt, an error and an infield hit later and the Govs had the bases loaded with one out. Phillips would drive in a run with a fielder's choice, but that's all the Govs could muster in halving the deficit.
The Eagles would break the game open with Snyder's three-run home run in the fifth inning. Austin Peay would get a run back with Phillips first home run of the tournament, but Morehead State promptly replied with another two runs in the seventh, extending its lead to 7-2.
Avros would get the Govs back to within three runs in the bottom of the seventh with his first collegiate home run, which brought home second baseman Malcolm Tipler. Austin Peay would bring the tying run to the plate in the eighth, but Morehead State turned its second double play of the game to end the final threat of the contest.
Campbell and catcher David Martinez ended their Austin Peay careers with 2-for-4 outings. They were two of the eight Govs starters to record a base hit in the loss.
Govs starter Tyler Thompson (1-2) allowed five runs on six hits over a 4.1-innign outing that also saw him strike out four batters. Jacques Pucheu came on in relief and struck out three batters over his three innings of work, becoming Austin Peay's single-season strikeouts leader (108).
Pauly paced Morehead State with a 2-for-4, two RBI performance. Starting pitcher Will Lozinak (8-1) picked up the win by holding the Govs to four runs on 10 hits over seven innings Reliever Jake Ziegelmeyer notched his eighth save with two scoreless innings.