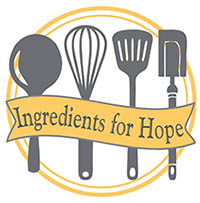 Clarksville, TN – On Saturday, July 27th, 2019, "Ingredients for Hope," a Crockpot Meal Tasting event benefiting Clarksville's Safehouse and Safeplace, will be held from 11:00am to 1:00pm at Trinity Episcopal Church in Downtown Clarksville.
Girl Scout Troop 779 Ambassador Ryleigh Welsh has been working with Urban Ministries Director CC Carmack and Legal Aid Victim Advocate Tabitha Tackett to organize this event which will benefit families leaving the Safehouse and Safeplace shelters to establish homes of their own. Many of these families leave with nothing to start their new homes.
"Ingredients for Hope" is Ryleigh's Girl Scout Gold Award Project, and her goal is to provide women and their families transitioning from the Clarksville Safehouse/Safeplace with kitchen supplies to get them started in their new homes, and educate the community on issues survivors of domestic violence face.
The kitchen supplies include all the basics to start a kitchen, with a full set valued at $156.00. The list is available on a Charity Registry on Target.com at https://www.target.com/gift-registry/gift/ingredientsforhope
The Crockpot tasting will offer three different appetizers, five main courses, and three kinds of dessert. Entry to the event is a donation of items from the Registry. Laptops will be available at the event for people to purchase items directly from the registry when they arrive.
Also present will be members of our community who can answer questions about Safehouse and Safeplace, talk more about what Legal Aid can do for people experiencing domestic violence, and materials to help educate the community on domestic violence.
More information on "Ingredients for Hope," please visit the Facebook page: https://www.facebook.com/pg/ingredientsforhope