Clarksville, TN – Jaclyn Lyons grew up in Chicago, in a neighborhood so rough that most of her childhood friends ended up in prison, addicted to drugs or the victims of violence. In 2009, Lyons joined the U.S. Army to escape that bleak environment, but she never forgot the young faces of her friends from those years before they lost hope.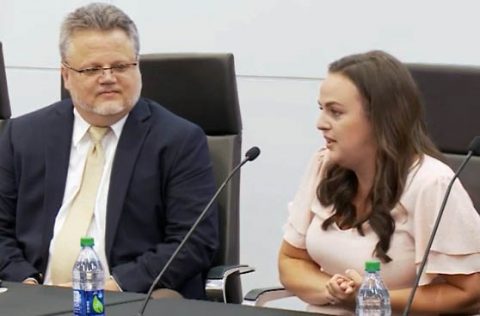 "I knew I wanted to be directly involved with these kids and show them that there's a way out, that there are people who care," she said.
A decade later, after serving her country and becoming a mother, Lyons enrolled as a nontraditional student at Austin Peay State University (APSU). Last semester, the social work major signed up for a new service-learning class, Law and Social Work. During the class' first session, she learned that she was part of an innovative new collaboration between the Montgomery County Juvenile Court and Austin Peay State University, and over the next few months, she and her classmates would serve as mentors for non-violent juvenile offenders.
"My eyes lit up," she said. "The stars aligned. I was just extremely excited about doing this."
A few weeks later, that excitement waned as Lyons read about her mentee, a shy Clarksville teenager named Amir. According to the survey he filled out, Amir did not want to be mentored. When she met him in person, he casually told her that he didn't have much faith in his future.
"If I end up homeless, it is what it is," he said.
With memories of childhood friends stinging her, Lyons fought through this rough patch, slowly building trust with Amir.
"I watched him with very little confidence, but I saw such a promising future in him by the way he spoke, by things he told me about his friends," Lyons said. "He had goals, he just didn't know how to achieve them. He thought college wasn't in his reach."
That's no longer the case. After one semester of mentoring, Amir is now enrolled at Nashville State Community College, and he's eager to begin his new life this fall as a college student.
"Jackie showed me that she had faith in me, that she trusted me and wanted to see me do better," Amir said. "That made me choke up at times. Growing up, I didn't have anybody help support me or motivate me. It was hard. It was really hard growing up without anybody helping me. This program is a great program."
The 20/10 Vision Mentoring Program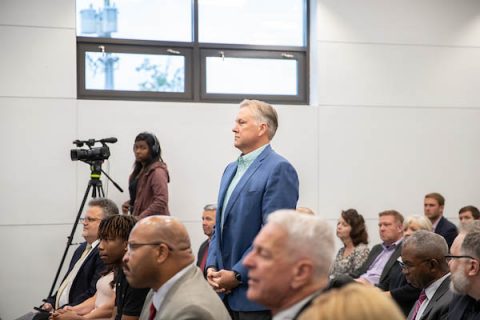 The roots of Amir's transformation, from a juvenile offender without hope into a college student with a promising future, reach back more than a year ago, into the courtroom of Judge Kenneth Goble. The Montgomery County Juvenile Court Judge began to notice a pattern where juveniles placed in state custody for frequent delinquent offenses often thrived in the structured environment where they had been placed.
They would no longer get into trouble and would often excel in school. Then, when they returned home to their original environment, they would fall back into the old patterns of behavior.
"I thought, there's got to be a better way," Goble said. "We've got to show these young men and women there's another option."
One afternoon, he brought Edward Moss, director of the Montgomery County Veterans Treatment Court, into his chambers and tasked him with finding a solution. Moss spent the next few months developing a program to provide mentors for these at-risk juveniles. Once he had the idea, he just needed a community partner.
"That's where Austin Peay came in because I knew that they had a positive influence in the community, they had a foothold in the community in terms of resources and education, so I wanted to partner the Juvenile Court with Austin Peay," he said.
Moss spent several more weeks working with Dannelle Whiteside, APSU vice president for Legal Affairs, and Scott Brower, APSU military advisor in residence, honing the idea. They ended up reaching out to Dr. Jeff Thompson, APSU assistant professor of Social Work, about turning his law and social work course into a service-learning class.
"I think it brought the class to life," Thompson said. "It helped social work students do what they're going to be doing when they graduate and get into the field and that's work with people. Our goal was the education of our students, for them to go out and put their craft to practice and help people. It rose above everybody's expectations."
As part of the program, called the 20/10 Vision Mentoring Program, APSU students were trained by the Juvenile Court, participated in a two-to-one mentoring of juvenile offenders, and submitted weekly reports of their interactions. The results were so impressive, Moss and Thompson have been asked to present their work at education and legal conferences around the state.
"Everyone who started the program, 90 percent are at completion of their probation, and there haven't been any other issues since that time," Moss said. "We look at that component, the individuals are not coming back into juvenile court."
Out of court, onto campus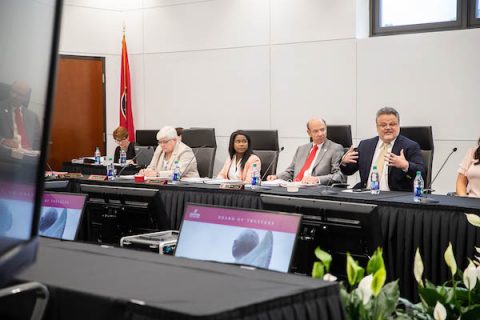 If you're in a courtroom, chances are you're having a bad day. Normally, individuals placed on probation visit the court to meet a probation officer, but for the 20/10 program to succeed, Moss needed to get them out of the courtroom environment.
"I really wanted to get the individuals involved with juvenile court taken out of the court," he said. "They're so malleable. I don't think that environment is good for rehabilitation. Let's get them on campus, in that environment, which is positive and conducive to learning."
The mentees were required to meet their student mentors on campus, which gave many of them their first exposure to college life. They drank coffee in the Morgan University Centers' Einstein's Bros. café, walked the campus lawns and even sat in on classes with their mentors.
"They were interested in meeting college students as role models, but also they began thinking about their futures," Thompson said. "And we told the social work students, 'We want you to be a mentor, be there for them, build trust. But also have them think about their future, what they want to do. Bring up college.'"
Thompson trained his students to become more familiar with the college admissions process, and he even brought in financial aid representatives to talk with the mentees.
"We wanted them to know how to navigate college, if that's something they aspire to," he said.
Because of last semester's success, the University and the Juvenile Court plan to expand the 20/10 Vision Mentoring program next fall. The University will offer two service-learning classes, in social work and in psychology and counseling, for APSU students to serve as mentors. For Goble, having mentors and mentees around the same age is a major part of the program's success.
"I thought if we married up juveniles, young men and women, with students, most of them close in age, they could talk to the juveniles where they won't listen to me because I'm almost 60," he said. "What's so great about it is, the students, they bought into it right away. Right away. That's why we're doing so well."
Why 20/10?
During a recent meeting of the Austin Peay State University Board of Trustees, Dr. Jeff Thompson, APSU assistant professor of social work, explained why the new partnership with Montgomery County Juvenile Court is called the 20/10 Vision Mentoring Program. To illustrate, he lifted his glasses from his eyes.
"Without these spectacles, I go from 20/10 to something terrible," he said. "20/10 Vision is the program designed to correct figurative vision. You think of an adolescent with a still developing pre-frontal cortex, maybe some issues at home, maybe the absence of a parent or some other environmental factors involved, and then you throw in some bad choices, you have a need for some corrective vision."