Clarksville, TN – A local suicide prevention summit will feature a "lived-experience" panel discussion led by two people whose lives have been touched by suicide.
Bryan Flanery, an U.S. Army Veteran who was injured in combat in Afghanistan and who survived a suicide attempt, and Cynthia Johnson, an author and hospice coordinator who endured the tragedy of losing her son to suicide, will share their stories.
#BeThere Clarksville, A Life-Saving Summit for Service Members, Veterans, Families and Our Community, will be from 9:00am to 2:00pm on Thursday, October 3rd at the Wilma Rudolph Event Center. Community members and caregivers from all walks of life — especially service members, veterans and their families — are invited to attend.
The event is sponsored by the Clarksville Suicide Prevention Alliance, a group working to prevent suicide by promoting a comprehensive public health approach that inspires action by the Clarksville-Montgomery County community.
In addition to the panel discussion, the event will include speakers and booths staffed by veterans advocacy and service organizations. The event is free and light refreshments will be served. Registration is available online at http://bit.ly/2kdRRfF
About The Presenters
Cynthia Johnson
Cynthia "Cindy" Johnson moved to Clarksville in 1991 with her husband and two children. She has worked in a variety of health care settings and currently works for Avalon Hospice as a Volunteer Coordinator.
Her son, Brandon, died of a self-inflicted wound at college. In the days and months that followed, Johnson was forced to examine her life — her experiences, her relationships, her assumptions about God's plans for her, and her dreams for the future. This reflection led her to write a book, "Turning Tragedy Into Hope," which reveals how Brandon's death has helped her make sense of her life. Her story illuminates a path that helps others understand tragedy, find the courage to face dark feelings, and embark on a journey of healing and hope.
Bryan Flanery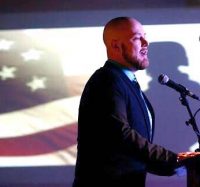 Bryan Flanery is an Army Veteran who was severely injured in battle during a deployment to Afghanistan. Flanery faced multiple surgeries and a battle against PTSD and combat trauma. Tired of the emotional, physical and spiritual pain, Bryan attempted to take his own life.
Through what he describes as a miraculous intervention, his suicide attempt failed. Still battling the trauma from his past, Flanery was invited to attend a REBOOT Combat Recovery healing course. Within 12 weeks, his life was transformed. An awakening of faith in his life restored a sense of purpose, wellness and joy.
Soon, Flanery was leading trauma healing courses and helping others who had walked the same road. Today, Flanery facilitates courses serving hundreds of military families and speaks around the country inspiring civilians and veterans alike.