Clarksville, TN – The Austin Peay State University (APSU) softball team will conclude its fall team workouts this week at Cathi Maynard Park-Cheryl Holt Field as the Governors hold their annual Red and Black World Series.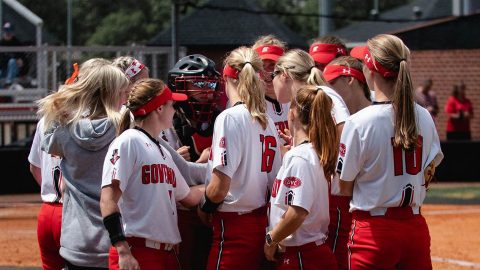 The three-game series between two squads of Govs players will begin Monday afternoon and run through Wednesday, with Thursday being a rain-day makeup if needed. All games in the series are scheduled to begin at 3:45pm.
"If you're a fan come out and watch because it's neat," Austin Peay head coach Kassie Stanfill said. "The players get to build their own lineups, they decide who gets pulled and when, and where people should hit and that's pretty cool because that's when the competitiveness comes out and you kind of get to see the true colors of the team that we're going to be working with during the year."
The Red Team defeated the Black Team in last year's matchup, two games to one, with Kelsey Gross throwing a one-hit, 3-0, shutout in the rubber game of the series.