Clarksville, TN – The Clarksville Parks and Recreation Department recently hosted its annual Handmade Holidays at the Wilma Rudolph Event Center, a two-day shopping extravaganza that featured a variety of unique handmade gift ideas.
Trey Stroud, an event planning specialist with Clarksville Parks and Recreation oversaw this year's event.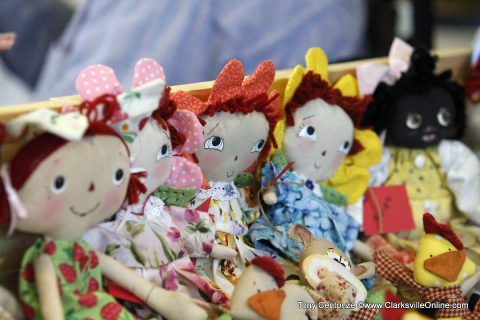 "This was our 8th annual Handmade Holidays," Stroud said. "This year, we had 69 vendors in various categories, so there was an impressive array of products. And, we had nearly 2,000 holiday shoppers come through the doors over the weekend. The buzz in the room was very positive, I think everyone had a fantastic experience. The vendors were pleased with the turnout, and the shoppers were really having fun. They were able to cross a lot of items off their Christmas shopping list."
The booths were divided into nine categories, Ceramics/Glass, Edibles, Painting/Artwork etc. In the edibles category alone there were a dozen vendors this year. Guests sampled cookies, jams and jellies, sweets, baked goods, gourmet popcorn, meats and more.
Art work by Ardyce Adams, William Sims and others were available. Eight artisans were displaying their unique offerings in the woodworking/signs/furniture category. Custom jewelry was available in no less than ten booths scattered throughout the building, and more than a dozen craftsmen offered everything from personalized books to wreaths, to beautiful creations in burlap.
"The variety of vendors we have is what makes this such a unique event," Stroud said. "We had vendors in nine different categories; jewelry, pottery, painting, quilting, you name it. Our shoppers got to spend time with family and listen to Christmas music, interact with the vendors and get a head-start on their holiday shopping."
Stroud was excited to share the news about other Clarksville Parks and Recreation events coming up this holiday season.
"Our Christmas on the Cumberland 21st annual lighting ceremony is coming up on November 26th ," Stroud said. "Mayor Joe Pitts and Santa Claus will officially light the Cumberland with more than 2,000,000 lights. Then, our 60th annual Christmas parade will be on December 7th, this year's theme is Christmas Through the Ages. Our special Grand Marshal will be the family of the late Mike Robinson, Rhonda, Bryce, Bayleigh and Carly."
Stroud also mentioned a new event, the inaugural Christmas Light Run, coming up December 14th. There will be a 5K, and a 1-mile run through the Christmas lights at McGregor Park. The event will begin at 4:00pm. More information can be found on the City of Clarksville events page.
Box Score