Jacksonville, AL – The Austin Peay State University (APSU) volleyball team opened its stay at the 2019 Ohio Valley Conference Volleyball Championship tournament by winning its opening set, but could not sustain that momentum in season-ending a four-set decision (25-20, 23-25, 22-25, 18-25) to Morehead State, Thursday night, at Pete Mathews Coliseum.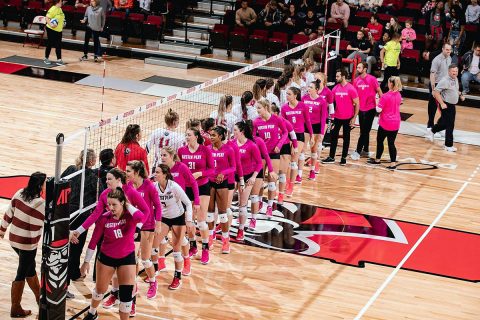 Austin Peay State University (11-20), the No. 5 seed in the tournament, opened their first-round match with an impressive wire-to-wire victory in the first set. The Govs posted a .385 attack percentage while limiting Morehead State to a .182 attack percentage.
Morehead State (22-8), the No. 4 seed, recovered to win a nip-and-tuck second set. The Eagles led by as many as four points but had to fend off the Govs late as they closed within a point four times in the final eight points.
The match turned late in the third set. Austin Peay State University fought back from a five-point, 10-5, deficit to tie the set and took an 18-16 lead courtesy another 4-0 run. The Govs nursed that advantage to 21-19 when Morehead State took over, scoring six of the final eight points, including three consecutive points by Olivia Lohmeier, to grab the win and the match lead.
The Eagles pressed their momentum into the fourth, recording six blocks in the set to stymie the APSU Govs offense and pull away for the match win.
Junior Brooke Moore scored 12 kills and 20 digs to lead the APSU Governors. Junior Chloe Stitt added 10 kills. Senior Ginny Gerig Busse finished with 10 digs and closed her Austin Peay State University career by becoming only the second Governors player to record 2,000 digs during their career.
Lauren Rokey led Morehead State with a 19-kill performance. Lohmeier added 16 kills and four blocks.