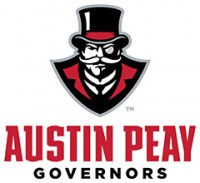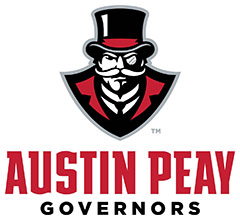 Clarksville, TN – One of the greatest women's tennis players in Austin Peay State University (APSU) history, a dynamic point guard from the Dave Loos era who piloted two conference title teams, an all-conference standout on Austin Peay State University volleyball's very first championship team and an offensive linemen from the late-1940s heyday of Austin Peay State University football are set to be inducted to the Austin Peay State University Athletics Hall of Fame as representatives of the 2020 class.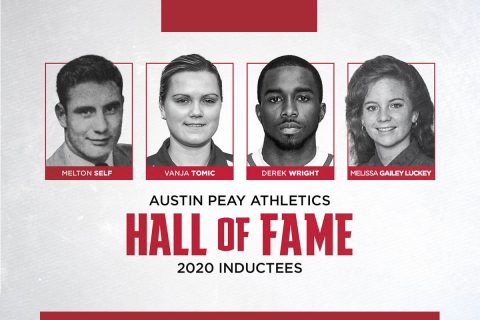 Vanja Tomic, who earned Ohio Valley Conference Player of the Year honors en route to an OVC title as a sophomore in 2010; Derek Wright, who remains APSU's all-time steals leader and earned second-team All-OVC during the championship 2007-08 season; Melissa Luckey (nee Gailey), whose 101 service aces in 1991 during the Govs' first OVC Tournament title season remain a program record have been selected for induction to the 2020 class while Melton Self, a throwback to the days when multi-sport athletes were the norm rather than the exception, enters through the Honors category.
Tomic, who hails from Belgrade, Bosnia and Herzegovina, spent her first season stateside at Lindsey Wilson College before decamping for Clarksville and becoming a three-time all-conference competitor. In her first season, she turned in an 18-2 record at No. 1 singles, winning all league matches and 17 in a row before the NCAA Tournament.
She led the Govs to the program's first OVC title in more than 20 years, with the Govs facing Georgia Tech in that year's NCAA Championship. She followed that with two more high-level seasons, winning 16 singles matches in 2011 and 19 in 2012, with both performances earning her All-OVC honors.
A Los Angeles native, Wright spent his entire Austin Peay State University career doubted for his stature and consistently proved his doubters wrong. A 5-9 guard, he took on the defensive duties of locking down each opponent's top backcourt scoring option and proved up to the challenge every time out.
He also proved opportunistic, ranking first all-time in steals with 228 and owning two of the top three single-season theft marks (89 in 2007-08, 69 in 2006-07) in program history. He ran point for Austin Peay State University's regular-season championship 2006-07 season and as a senior for the 2007-08 team which earned regular-season and tournament titles, with Wright earning All-OVC honors in his final campaign.
After two seasons at Miami-Dade South, including a junior college national championship, Melissa Gailey brought her winning ways to Clarksville and immediately paid dividends, helping the Govs win their first OVC Tournament title in 1991 and the regular-season championship in 1992.
An outstanding setter, she still ranks 11th in program history with 1,370 career assists, while her 101-ace campaign in 1991 may well stand the test of time; no Austin Peay player since 2010 has more than half as many aces in a single season. She still ranks third in career aces at 161.
Self, an All-Volunteer State Athletic Conference selection as a senior in 1950, started next to last season's Honors inductee, Hendricks Fox, as well as Austin Peay State University Hall of Famer Julius Sneed.
During Self's career under legendary Austin Peay State University head coach Dave Aaron, the Govs went 24-12-2 in the VSAC, with Self and the line posing a formidable front. Following graduation, he served in the Air Force, where he was commissioned as a Second Lieutenant, before returning to Tennessee to teach and coach for 30 years.
Tomic, Wright, Luckey and Self will become the 126th, 127th, 128th and 129th members of the Hall of Fame during this annual ceremony. This year's event will be a 6:00pm dinner on Friday, January 24th, 2020 at the APSU Morgan University Center ballroom; the honorees will be recognized during the following night's men's basketball contest against Belmont.
For more information about the Hall of Fame dinner and to make reservations to attend, call Tara Pfeifler, 931.221.6119 or email .