Clarksville, TN – On Friday, January 3rd, 2020, Cops on Ice will be held at the Downtown Commons Winter Ice Rink to benefit Big Brothers Big Sisters of Clarksville.
Come out from 6:00pm-9:00pm and skate with our Clarksville Police Department, Montgomery County Sheriff's Office and Austin Peay Police Department.
Ticket prices are $10.00 for children 12 and under. Adult tickets are $12.00 and Government employees / APSU ID tickets are $10.00.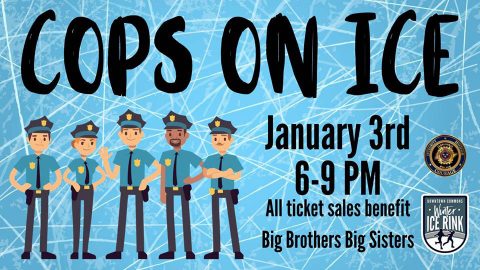 $2.00 from every ticket will be donated to Big Brothers Big Sister of Clarksville.
Skate Sessions open at 10:00am and continue on the even hour thought the day. Law Enforcement Officers will be on the ice from 6:00pm-9:00pm only.
Downtown Commons Winter Ice Rink is located at 215 Legion Street in Clarksville, Tennessee.
About Downtown Commons Winter Ice Rink
The Downtown Commons Winter Ice Rink is a gathering place for the entire family during the chilly months in the heart of Downtown Clarksville.
The Downtown Commons is home to a seasonal ice skating rink. During most of the year, the area is a large open lawn, which has been engineered to accommodate an ice rink during winter months that has capacity for about 175 skaters at a time.
Although most of Downtown Commons was still under construction, the ice rink opened in November of 2017 and was very successful in its first year.