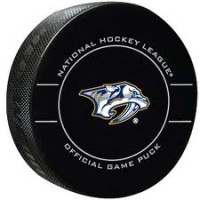 Anaheim, CA – The Nashville Predators managed to secure a point, but lost tonight's game against the Anaheim Ducks, 5-4. Nashville picked up three out of four possible points on this "back-to-back" series against the L.A. Kings and Ducks.
The Predators survived an Anaheim onslaught in the first period managing to end the period with a 1-1 tie.
It was not a good period of hockey for the Predators but after Adam Henrique put Anaheim up 1-0, Austin Watson managed to bring Nashville even with a tip-in at 19:11 of the first period.
Watson and Nicolas Deslauriers dropped the gloves at the opening puck drop, just three seconds into the game and spent the first five minutes in the penalty box.
The Predators were flat to open the game and had it not been for the stingy play of Juuse Saros in net for Nashville, the damage could have been worse.
The Predators were still without the services of Ryan Ellis, Matt Duchene, Colton Sissons and Dante Fabbro. Ellis on injured reserve, Fabbro day to day, and Duchene and Sissons with the flu.
Craig Smith scored twice in the game continuing his strong offensive play, scoring at 2:59 of the second period on a tip-in to give Nashville it's only lead of the night, 2-1.
Anaheim would then go on a tear, scoring three more goals in the second period by Cam Fowler, Daniel Sprong, and Adam Henrique. The Ducks would end the period leading 4-2.
Smith and Rocco Grimaldi would tie the affair in the final frame at 4-4 and the Nashville comeback was complete.
In the over-time period both teams had opportunities but neither could score and it was off to a shoot-out.
Ryan Getzlaf, the Anaheim captain, would end the mystery on the 10th shot of the shoot-out, beating Saros for the win.
Roman Josi, who was named to the NHL All-Star game, said he was proud of his team's comeback, but they needed all four points. Josi set a franchise record for a defenseman with points in 10 consecutive games, becoming only the 8th in the last 20 years to register a point streak of at least 10 games.
Nashville will return home to host the Boston Bruins on Tuesday night at Bridgestone Arena. Puck drop is at 7:00pm.