Cape Girardeau, MO – It was not Austin Peay State University (APSU) women's basketball's night Thursday, as it fell, 81-43, to Southeast Missouri at at the Show Me Center.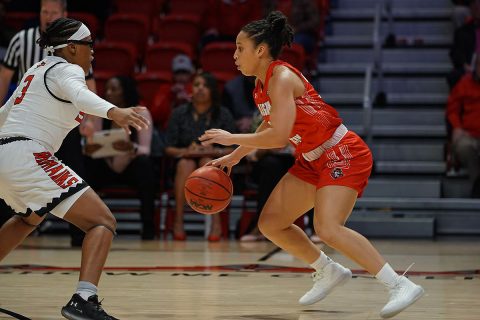 Austin Peay State University (10-6, 1-4) started out red hot, shooting 88 percent (7-of-8) from the floor in the first quarter.
But the Governors turned the ball over 11 times in the frame, allowing Southeast Missouri (11-5, 3-2) to build a six-point advantage after the first ten minutes of action.
After an efficient start to the contest, the Govs offense went dormant in the second quarter and as they struggled to score the Redhawks offense heated up. Southeast Missouri shot 57.1 percent in the second quarter, as they stretched their lead to 18 heading into halftime.
In the second half, the Governors offense still could not seem to its rhythm. The Govs did most of their third quarter scoring from the free-throw line, where they converted five-of-six attempts. However, one of the Ohio Valley Conferences top-scorers heated up for the Redhawks in the third quarter, as Carrie Shepard hit a pair of three-pointers to give Southeast Missouri a 60-34 lead heading into the final quarter.
In the final ten minutes of action, the Governors were unable to erase the deficit, and fell to the Redhawks for the second time this season.
The Difference
Points off turnovers. Southeast Missouri outscored Austin Peay State University 33-4 in points off of turnovers. It was the fewest points the Governors have scored off turnovers this season.
APSU Notably
Arielle Gonzalez-Varner scored in double-figures for the 10th time this season.
With four assists, Gonzalez-Varner matched her career-high.
Gonzalez-Varner led the Govs in scoring and assists in the same game for the first time this season.
Austin Peay State University dropped the season series to Southeast Missouri for the first time since the 2012-13 season.
Southeast Missouri is the only team that has taken more shots than the Govs in a single game this season – they have now done it twice.
The APSU Govs recorded season-lows in steals (3) and turnovers forced (10).
The Governors bench scored just ten points, which is the fewest points they have produced this season.
Up Next For APSU Women's Basketball

The Austin Peay State University women's basketball team is set to wrap up a four-game, OVC road trip when they play a 2:00pm, Saturday, contest at UT Martin. Austin Peay State University lost to the Skyhawks, 69-61, in the Dunn Center on January 4th; and the Govs will look to return the favor when they square-off with UT Martin in the Elam Center.