Martin, TN – The Austin Peay State University (APSU) men's basketball team is coming home with an unbeaten record in league play.
At the end of a season-long four-game road trip, the Govs remain unblemished in Ohio Valley Conference play after a first-half explosion allowed Austin Peay State University to breeze to a 92-81 win against UT Martin at the Elam Center, Saturday.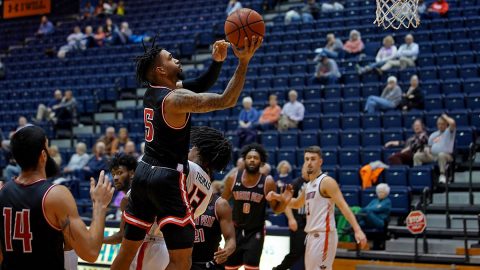 A theme of this particular conference weekend has been early road leads for Austin Peay State University, as the Govs opened the game with a 9-2 scoring run punctuated by an Eli Abaev dunk.
Abaev rolled up 13 first-half points, but it was freshman Jordyn Adams' performance that struck fear in the hearts of the Skyhawk faithful. Adams hit six threes in the first 20 minutes alone as Austin Peay's lead stretched to 24 points. With UT Martin's Parker Stewart beset by foul trouble, the Skyhawks had no answer for Adams, Abaev or any other Governor and Austin Peay took a 50-31 lead into the break.
Austin Peay State University head coach Matt Figger has a phrase he's… not terribly fond of, per se, but has used on occasion: playing to the score. It's what happens when a team builds a big lead and slacks off a little bit, regardless of the quality of opponent.
And maybe there was a degree of that in the second half; it could also be that UT Martin went white-hot from beyond the arc, hitting nine of its 12 three-pointers in the second half. Regardless, there were moments–brief moments–where UT Martin seemed in real danger of making this a ballgame over the final 20 minutes.
Those moments passed. Every time UT Martin cut the deficit to 10 points, the APSU Govs responded, most emphatically with a Terry Taylor dunk at the 8:04 mark. The Skyhawks pulled to within nine points once , but not until 1:24 remained.
Notice a lack of Terry Taylor mentions tonight. That's because the league's top player did not have to bear nearly as much of the offensive burden, instead acting as one of six Governors in double figures, with Adams' second career 30-point night the catalyst.
The Difference
The Skyhawks committed 21 fouls, compared to 14 for the Govs. That led to Austin Peay shooting (25) and making (21) three times as many free-throws as the hosts.
Notably
This was Austin Peay State University's fourth straight road win, the Governors first four-game road winning streak since January 4th-January 29th, 2007.
Adams' performance marked the first time a Gov hit at least five threes in the first half and at least six in a game since Zach Glotta, February 23rd, 2019 against… UT Martin. He finished with a career-high 31 points
In its 12 victories, Austin Peay State University is now hitting 51.8 percent (367-for-709) from the floor. Saturday's win made the Govs 10-0 when outshooting their opponent in 2019-20.
Austin Peay State University is now 6-0 to start league play for the first time since 2010-11.
Abaev set or tied career-highs in points (13), field goals (five) and assists (three).
Austin Peay State University is averaging 17.0 assists per game over the last six contests.
With four assists and no turnovers, freshman Carlos Paez bumped his assist-to-turnover ratio to 4.0-to-1 since joining the starting lineup nine games ago.
The APSU Govs are 9-0 when scoring at least 80 points this season.
As a team, Austin Peay State University is averaging 10.0 threes per game over the last three games.
Austin Peay State University's reserves are now averaging 27.3 points over the last three games.
The Govs have won six straight against UT Martin, equaling a six-game streak from 2010-12.
Since league play began, Austin Peay State University is averaging a robust plus-6.0 rebounding margin and a plus-3.3 turnover margin.
On a night when he needed to take just nine shots for the APSU Govs to win, Taylor made a significant contribution at the other end of the court, with two blocked shots and a career-high four steals.
The Govs put six players–Abaev, Adams, Taylor, Antwuan Butler, Evan Hinson and Alec Woodard–in double figures for the first time since opening night against Oakland City.
Austin Peay State University has swept the season series against the Skyhawks for the third straight season.
Hinson set career-highs in points (14), field goals (five) and rebounds (five).
The APSU Govs have now won six straight for the first time since November 29th-December 22nd, 2018.
Woodard has hit 9-for-14 from beyond the arc over the last five games.
Milestone Watch
Taylor moved past Trenton Hassell for 10th all-time in program history with 1,637 points. He also passed Ralph Garner for eighth all-time with 759 rebounds.
Coaching Quotables with APSU Head Coach Matt Figger
On the first half
"We came out with the same mentality we had at Southeast Missouri. We were aggressive, didn't give those guys anything. We played good offense the whole game, and it wasn't dependent on Terry Taylor. Everybody is always scheming to take him out, and Jordyn had a big first half. Defensively, we did a really good job to set the tone."
On the Skyhawks
"They've had a rash of injuries. He can't keep his whole lineup together and healthy, but he's got a lot of tools and they're going to win a lot of games and be really dangerous. They've played us twice, Murray State twice, Tennessee State and Belmont–that's four teams picked to finish in the top-five."
On Evan Hinson
"He played with an edge, and that's what I've needed from him. The thing about Evan is that he's never played a full season of college basketball; he's starting to understand his role and played 20 minutes tonight and did a lot of the things we needed."
Next Up For Austin Peay State University Men's Basketball

Finally back in the Dunn Center, the Austin Peay State University men's basketball team will host Tennessee State in a Thursday night contest that will be game two of a doubleheader, with the women's game against the Tigers slated to start at 5:30pm.