Huntington, WV – Freshman sprinter Kenisha Phillips is going to be a special talent for the Austin Peay State University (APSU) track and field team. If this weekend is any indication, there's a lot of that in Valerie Brown's locker room.
The Govs won the Thundering Herd Invitational, hosted by Marshall, posting 151 points as a team to take the top spot over the hosts by 37 points.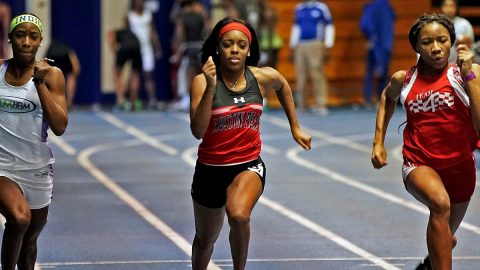 It's Austin Peay State University's first team victory since 2015, and the first of Brown's career as head coach.
"This was by far our best event of the season," Brown said. "I was very pleased with how each event group executed, ran each round very competitively. I can't say enough just about how we executed. Being a month out from the OVC Championships, we really want to start seeing better marks and better times and I thought we did that and did it well in every event group."
Austin Peay State University put five sprinters in the finals of the 60m dash and were paced by Phillips, who won the event thanks to a 7.50 mark was one-hundredth of a second off the school record she already shares with Tymeitha Tolbert. Tolbert was runner-up at 7.57, followed by sophomore Kyra Wilder at 7.68 to give Austin Peay State University a sweep of the top-three spots. Tiyanna Johnson (sixth, 7.89) and Lennex Walker (seventh, 7.97) to pick up vital points for the Govs.
Phillips was at it again in the 200m dash. Her 24.52 mark dusted the field by nearly a half-second and was not only a personal-best and not only leads the Ohio Valley Conference by nearly two-tenths of a second, it's the eighth-fastest mark in the history of Austin Peay State University track and field. Wilder (second, 25.04), Tolbert (fourth, 25.26), Johnson (seventh, 25.52) and Maya Perry-Grimes (eighth, 25.71) all earned points to contribute to APSU's winning score.
"I thought our 60 ladies were dominant," Brown said. "Those young ladies are ready to take off. We dominated the 200; every single runner in the 200 ran a season-best in this meet. That's very exciting for us, and it should give us the confidence we've needed."
The big runs kept piling up; ultimately, 87 of Austin Peay State University's points came via the running events. Sabrina Richman was in her customary spot near the top of the 400m dash results, taking runner-up honors at 56.58, while sophomore Mikaela Smith also was among the top finishers in the 800m at 2:17.76 to move into fourth place among OVC runners—she would later pace a quartet of distance medley runners, along with Keleah Shell, Sara Martin and Jessica Kelley to a fifth-place finish.
Walker also picked up a top-five finish in the 60m hurdles as well, with an 8.97 mark, but she did her best work in the triple jump. The junior hit 11.47m (37-7.75) to take the win in that event, with Perry-Grimes in third at 11.35m (37-3.0). Perry-Grimes also took fourth in the long jump (5.33m; 17-6.0).
"Coach[TJ] Pride has done a really good job with our jumpers and being super creative in terms of what we do to stay healthy and competitive," Brown said. "Maya took a shot at the high jump, and this is the first meet we've done that; looking forward, we may look at her in that event at the conference level."
Not only did the Govs get some points out of the throwing events, Austin Peay State University added 25 to the final tally after Kori McDaniel (12.95m; 42-6.0) and Jackie Verseman (personal-best 12.75m; 41-10.0) were the top two tossers in the shot put, with McDaniel earning her first career win. She would later set a personal-best in the weight throw with a 15.14m mark that also was the fifth-best throw in program history by an APSU Gov; Verseman's 13.82m mark gave her sixth overall.
Freshman Karlijn Schouten continues to impress in the pole vault; her 3.72m mark was runner-up in the event, while junior Denia Hill-Tate's 1.61m in the high jump placed her fifth.
In the final event of the day, with victory well in-hand, Austin Peay State University's quartet of Wilder, Richman, Phillips and Allana Johnson ran a blistering 3:48.52 in the 4x400m relay, winning the event by nearly eight seconds while posting a mark that's both the fifth-best in program history and moved the Govs into the OVC lead.
"I think we're on to something great with this team," Brown said. "I'm very pleased with how competed today across the board. We ran with a purpose; we jumped with a purpose; we threw with a purpose. I couldn't ask for a better performance across the board. Hats off to the staff for what they did with the team this week."
Following this outstanding showing in West Virginia, most of the APSU Govs will get a well-earned week of rest before returning to action in Birmingham, Alabama for the Bulldog Open, February 14th-15th. A limited contingent will compete next week in Birmingham at a South Alabama-hosted event.