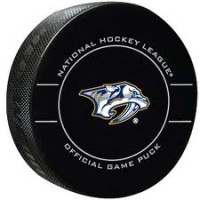 Nashville, TN – The Nashville Predators hold on to defeat the Columbus Blue Jackets in a shoot-out, 4-3. Rocco Grimaldi scored the decisive goal in the 8th round of the shoot-out for the win.
The Predators were coming off of a tough loss last night in Chicago and blew an early two goal lead to hang on for the win. Columbus fought a valiant fight, considering that half of their team is on injured reserve.
Ryan Johansen and Mikael Granlund gave the Predators a 2-0 lead after the first period, with Johansen scoring just 33 seconds into the contest, while Granlund extended the Nashville lead at 10:31.
The second period for some reason has been a real thorn in the side of the Predators and tonight was no different.
Columbus turned up the heat on Nashville, scoring three goals, and briefly taking a one goal lead. Boone Jenner beat Juuse Saros at just one minute into the period, while Eric Robinson and Emil Bemstrom put the Blue Jackets on top, 3-2.
Then at 18:57 of the period, Colton Sissons came through for the Predators, swatting the puck out of the air and deflecting it past Elvis Merzlikins in goal for Columbus, and suddenly the game was tied, 3-3.
There were no goals scored in the third period and the game went to over-time. Nashville had 5 shots on goal during the extra period, while Columbus kept "peppering" the Nashville net. Saros made some incredible saves during the extra period to keep his team in contention.
After no score in the over-time, the game went to a shoot-out. It took eight rounds of heart-stopping, one-on-one hockey where Nashville's Rocco Grimaldi, in his first ever shoot-out attempt, scored the game winner for the Predators, 4-3.
The Predators are desperately trying to claw their way into the playoffs, and tonight's win puts them just one point out of the wild-card race in the Western Conference.
Nashville has five straight home games coming up, starting with the Ottawa Senators on Tuesday night. Puck drops at 7:00pm.