Topic: banquet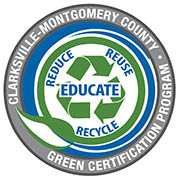 Montgomery County, TN – On Tuesday, September 15th. 2020, the Clarksville-Montgomery County Green Certification Program held its annual awards banquet. In the past this banquet has been held in person at the Wilma Rudolph Event Center but this year the Program held a virtual banquet to celebrate environmental stewardship amongst local organizations while staying safe and socially distanced.
The awards included 8 Excellence Awards, 2 Best Overall Organization Awards, 16 Level-Up Awards and the Ron Smithfield Persistence Award. The big winner of the day was the Clarksville Parks and Recreation Department taking home the Outstanding Efforts in Land Use Award, the Best Overall Small Organization Award and an award for achieving Platinum Level in the Program.
«Read the rest of this article»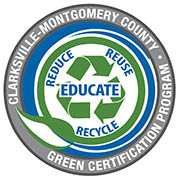 Montgomery County, TN – Each year the Clarksville Montgomery County Green Certification Program holds a banquet to celebrate local organizations that are outstanding environmental stewards. Prior to 2020, this banquet was held in person.
This year the Program will instead be holding its first ever virtual banquet. The banquet will be presented completely online and will be free of charge thanks to our wonderful banquet sponsors Florim, USA and Montgomery County as well as our individual award sponsors.
«Read the rest of this article»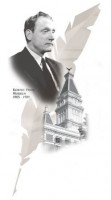 Clarksville, TN – Unlike previous years when this event was held in July, the Eighth Annual Clarksville Writers Conference will be held this year on June 7th and 8th at Austin Peay State University's Morgan University Center. The banquet will be held on Thursday night, June 7th, at Clarksville Country Club.
This year's conference is dedicated to the memory of William Gay, prize winning author from Hohenwald, who died on February 23rd, 2012. A special tribute to this three-times conference participant will be held on Thursday afternoon. (See "On the Passing of William Gay" on clarksvilleonline.com, February 25.)
«Read the rest of this article»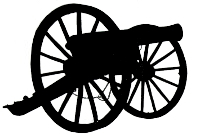 The Friends Of Fort Defiance's Civil War Ball and Dinner will be held on November 13th at the Smith-Trahern Mansion on McClure Street.  This year Friends of the Fort will be conducting a Memorial Service for the Civil War Casualties who are buried in Riverview Cemetery.  The Memorial Service includes a presentation by a color guard and a short devotional talk by a Civil War reverend.
My family and I have been part of Friends of Fort Defiance for 6 years now. They are a very knowledgeable, helpful group of people who want Clarksvillians to know about Fort Defiance and the part it, and the people who inhabited it throughout its many name changes, had on Clarksville during the Civil War era.
«Read the rest of this article»
Survey finds 79 percent of consumers do not feel like the recession is over

OMAHA, NE,  — While the recession forced millions of Americans into the kitchen and to develop an eat-at-home mindset, a new survey(1) released today by ConAgra Foods (NYSE:CAG) one of North America's leading food makers, shows that despite the ease on economic conditions, Americans are not soon to let go of their new habits. In fact, while many experts say the recession is over, four-in-five Americans (79 percent) say they do not feel like it is and seven-in-10 (71 percent) say they will continue the savings habits they developed during the economic downturn. «Read the rest of this article»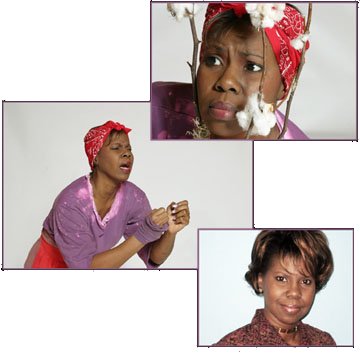 Civic and elected leaders gathered recently for the 2007 Freedom Fund banquet which featured Sherri Bishop (left) in a striking performance of From the Motherland to the Promised Land.
Singing of The Star Spangled Banner, was led by Mrs. Naomi Jerkins, who was also the accompanying pianist for Ms Bishop. Mr. Kevin Johnson and the Youth Choir of Tabernacle Missionary Baptist Church sang Lift Ev'ry Voice and Sing. Mrs. Jean Scott Murphy was the Hostess of Ceremony.
Rev. Jerry G. Jerkins presented the 2007 Clarksville Branch NAACP Jerry G. Jerkins Annual Service Award to Montgomery County Commissioner Lettie Kendall. Mrs. Kendall has served on the Montgomery County Commission for 40 years. She has shown a lifelong dedication to early childhood education during her education career. She currently teaches fourth grade math at Ringgold Elementary School, served as Minglewood Elementary School Principal and has been with the Montgomery County Schools System for over 35 years. «Read the rest of this article»