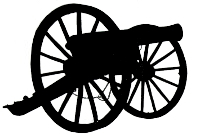 The Friends Of Fort Defiance's Civil War Ball and Dinner will be held on November 13th at the Smith-Trahern Mansion on McClure Street.  This year Friends of the Fort will be conducting a Memorial Service for the Civil War Casualties who are buried in Riverview Cemetery.  The Memorial Service includes a presentation by a color guard and a short devotional talk by a Civil War reverend.
My family and I have been part of Friends of Fort Defiance for 6 years now. They are a very knowledgeable, helpful group of people who want Clarksvillians to know about Fort Defiance and the part it, and the people who inhabited it throughout its many name changes, had on Clarksville during the Civil War era.
The ball  and dinner last year was very enjoyable. We had a small crowd all dressed up and a great band that played Civil War era tunes. The dancing was amazing!  There were some great dancers there and some beginners so no one felt left out at all.  And there was some time for folks to actually learn some of the dances as we went along. Davilyn Black called the dance and along with her family they made the evening very special for all the first time ball-goers.
This year there are a couple of notable changes to our Ball plans. The first is a Memorial Ceremony that will be held in honor of both Confederate and Union soldiers buried in Riverview Cemetery.  So far, what is planned for that ceremony are a few short speeches, a period sermonette, a color guard and then a leisurely stroll over to the Smith-Trahern Mansion.  Of course if you had rather you can drive your vehicle into the cemetery, park, view the ceremony and then drive back to the Smith-Trahern Mansion for dinner.
Ah, dinner.  Good southern cooking is a thing of beauty and our meal last year included a choice of ham or chicken, sweet potatoes, green beans, yeast rolls and more. It was truly good and promises to be so this year.
After we ate dinner, we relaxed a bit and then the music tuned up and the dancing began. The Smith-Trahern front hallway is not too big, but we were able to have a great time and knew that we could open up the next room to dancing as well if we needed to.
Just sitting with all the dressed up reenactors and talking was so enjoyable. Listening to the live music was so peaceful and made the evening just right.
The other change this year is that the Ball will be held in November when the weather is cooled off and all the leaves are turned. We decorate the mansion for our Ball and this year we'll get to use fall leaves, pumpkins, corn stalks and more. The weather may allow us to have some of our socializing outdoors, too.
You are invited!
I hope you will consider finding yourself a costume and attending the Friends Of Fort Defiance Ball and Dinner this year. Here is more information:
Second Annual Friends Of Fort Defiance Civil War Ball And Dinner
with a Memorial Service to be held before hand at Riverview Cemetery at 3:30 pm
at
Smith-Trahern Mansion
101 McClure Street, Clarksville, TN
November 13, 2010
5:00 p.m. to 9:30 p.m.
Tickets are $30
Note: Limited Seating. Must reserve in advance.
Period clothing required.
For more info please call:
Phyllis Smith: 931-551-4560