Topic: Gathering to Save Our Democracy

Every Tennessee school child learns early on that our state has been blessed with heros throughout its history. Davy Crockett at the Alamo, Alvin York in the trenches of World War I Europe – we continue to revere the honorable people who sprang from our hills and hollows with the in-borne courage to do the next right thing when they were called on to do so. There are three other heros – two long-gone now and one who is still very much alive – who helped expand our franchise and, in the process, helped save our democracy. The two deceased heros were Harry Burn and Ben West. The third hero, the one who still walks among us, is Senator Tim Burchett of Knoxville.
Harry Burn was a first-term Republican state representative from McMinn county, the youngest Tennessee state legislator serving in 1920 when women's suffrage hung in the balance in our state. Back then, only one state was needed to ratify the Nineteenth amendment to the US Constitution, an amendment that would give women the right to vote. Like many legislators at the time, Representative Burn was under extreme pressure from sexist politicians back home to oppose the amendment, to keep women "in their place". Some even believed that Rep. Burn was a safe bet to vote against suffrage, since he wore a red rose on his lapel, a color then (and now) that represented exclusion and disenfranchisement. But as the pivotal vote approached, «Read the rest of this article»
"Brother against Brother. Democrat against Democrat. The Republicans don't need to defeat the Democrats – they're doing that all by themselves." ~~ Beth Robinson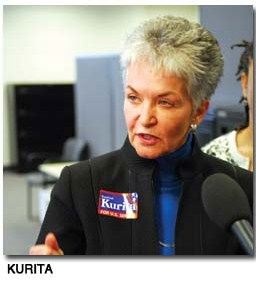 Some long-time Democrats become "Incurably Uncertain" about remaining in their own party after Kurita's election win was discredited on September 13. The eight hour session which seemed to most observers to be a sure win for Kurita ended with a 33-11 vote to null and void Kurita's Senate election win.
When this decision was announced, APSU Associate Professor of Biology, Dr. Joe Schiller, told the officials in the room that "they had been instructed to vote based on the evidence and facts, not on retribution and revenge". He was asked to leave the room. Feeling disenfranchised, he told me that the whole event was a miscarriage of justice and he is seriously reconsidering his party affiliation. "If it is a Republican conspiracy when Republicans vote for Democrats, that's a conspiracy I'd like to have."
"There was no proof. It was a Scopes monkey trial. It was embarrassing", said Beth Robinson, a Clarksville computer systems analyst and member of The Climate Project. "This reminds me of the Supreme Court ignoring the voting public and handing Bush the White House despite the fact that Gore received more votes." Beth said she'd like Senator Kurita to explore a write-in campaign and possibly run as an Independent.
R. Neal wrote his view on the case in the Tenn Views web site. He includes a link to Kurita's attorney's response to the Barnes challenge, which you can read here or at http://www.tennviews.com/files/kuritachallengeresponse.pdf Neal writes that Barnes filed a challenge, citing a litany of alleged irregularities. Kurita filed a response refuting them point by point. Read the rest of Neal's article at http://www.tennviews.com/node/3882. «Read the rest of this article»
Now, more than perhaps ever before, your voice will mean something for Tennessee. If you speak up in the next week, your voice will be amplified by the growing call to our legislature to move the TN Voter Confidence Act forward now. At this moment, this call from voters across Tennessee and across the nation is strongly bipartisan, broad-based and basic in its request: Let our votes count in Tennessee in '08. What follows shortly is an email action alert that is being sent to our core election integrity supporters here in Tennessee. Some of you are among that group, but many more of you are not. That is why I am writing to all of you myself, one last time.
Please take 30 minutes to voice your support to replace our non-verifiable touch-screen voting machines in Tennessee with paper ballot-based voting systems in time for the November election. To help you do that, I am sending you the latest call to action from Gathering To Save Our Democracy (www.votesafetn.org), and I am appending on that action call a few more steps you can take if you believe as strongly as I do that free, fair and verifiable elections matter in this country. «Read the rest of this article»
The most important message to send to TN lawmakers is: We must have paper ballots in time for the 2008 Presidential election!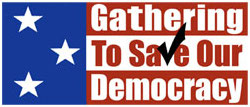 The house state & local government committee rolled our bill (HB 1256) from Feb. 5 to Feb. 12 – this coming Tuesday. It will be heard at 10:30 in Room 16 at Legislative Plaza.
The senate state & local government committee will be hearing our bill (SB 1363) that same day at noon in Room 12.
We expect (but aren't sure) that both bills will pass out of the committees. The next stop is the Finance, Ways & Means committee where the members will consider how the bill would be funded. This is where we anticipate the most difficulty.
However, there are reasons to be hopeful «Read the rest of this article»
Tomorrow the House State and Local Government Committee meets in Room 16, Legislative Plaza to consider the Tennessee Voter Confidence Act (HB 1256), a critical measure that could mandate voter-verified paper ballots in Tennessee will be in place for the November 2008 election.
VoteSafeTN and Gathering to Save Our Democracy are making a final push to support this measure, and are encouraging Tennessee voters to the same by doing the following:
Email members of the House and Senate State and Local Government committees. Tell them we still have the time to make the changes necessary to scrap unsafe, unverifiable, insecure and problem-prone DREs in Tennessee for opscan voting systems or hand-counted ballots in time for the November 2008 election. «Read the rest of this article»
In the wake of 2000 election issues, Congress passed the Help America Vote Act (HAVA) in 2002. HAVA was intended to address the problems of accuracy and functionality such as "hanging chads"– of the voting systems then in use. HAVA's mandate also included ensuring that all voters with disabilities have access to voting systems that would provide private and independent voting.
These changes were required in every state for the 2006 federal election. Millions of tax dollars were allocated and dispersed to the states to upgrade and buy new equipment that would incorporate these requirements. «Read the rest of this article»
Recently the Secretaries of State in all fifty states received subpoenas in the National Clean Election lawsuit, according to Bernie Ellis, founder of the Nashville based group, Gathering to Save our Democracy. There is still time, Ellis said, to require a paper trail for the 2008 election.
"The lawsuit aims to establish that all computer systems (or other systems) which hide the ballots from the people for even a short period of time before the count is accomplished and the results are posted – are unconstitutional…The lawsuit argues persuasively … that the use of computer and machine election systems violate each citizen's right to vote, as defined at least twice by the Supreme Court of the United States. "
– Jim Condit Jr., NetworkAmerica.
The reason for the push to have paper verified elections is evident in the recently released documentary, UNCOUNTED, by David Earnhardt. The film will make its Clarksville debut Dec. 7 at 7 p.m. the Unitarian Universalist fellowship on Highway 41A South. The event is free. «Read the rest of this article»
Business as usual will not be the norm over the next 48 hours as Secretaries of State in all fifty states will each receive subpoenas in the National Clean Election lawsuit, according to an announcement made Monday night by activist Bernie Ellis at the Belcourt Theatre in Nashville. There is still time, Ellis said, to require a paper trail for the 2008 election.

The announcement was made in a panel discussion following the sold out Nashville premiere of the David Earnhardt film, Uncounted [The Movie], which ended with a standing ovation for its writer/director. The documentary film addressed the issue of voting machine error/failure, the need for a paper trail of votes, the political and business ties between government officials and manufacturers of these DRE (Direct Recording Electronic) voting machines, and the ease of tampering with such machines and "flipping" votes that are electronically counted.
"I cannot think of anything more important than to save the core of our democracy — the vote! — David Earnhardt
«Read the rest of this article»