Topic: Insurance Information Institute
Murfreesboro, TN – The number of homeowners insurance claims from lightning strikes and electrical surges in the United States rose in 2016, compared with 2015; however, the average cost that insurers paid on those claims fell, according to a new analysis by the Insurance Information Institute (I.I.I.).
«Read the rest of this article»
State Farm® Paid out Nearly $15 Million in Lightening Claims in 2013
Lightning is an underrated danger and the second leading cause of storm-related deaths in the U.S., exceeded only by floods. Most lightning claims were surge or power related.
Damage is generally caused by power surges carried by the electrical wiring, TV cable, or phone lines serving the home or business and usually involve one or more electronic items.
According to State Farm, Tennessee paid out more than $5 million in lightning claims. Georgia led the nation in claims resulting from lightening in 2013 with nearly $15 million paid out.
«Read the rest of this article»
Washington, D.C. – Up to 40% of businesses affected by a natural or man-made disaster never reopen, according to the Insurance Information Institute. In a nationwide effort to raise the business community's awareness about how to prepare their businesses and employees in the event of an emergency, the Advertising Council, in partnership with the Federal Emergency Management Agency (FEMA) and the American Red Cross, announced today the launch of new public service advertisements (PSAs) on behalf of Ready Business.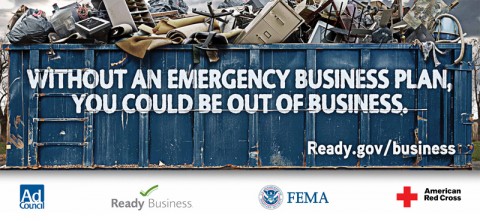 «Read the rest of this article»
Family, Career Status Should Be Reflected In Your Policy Coverage
New York, NY – Major purchases and lifestyle changes such as marriage, divorce or retirement can have a profound effect on your insurance needs, so an annual coverage review is always a good idea, according to the Insurance Information Institute (I.I.I.).
"Discussing your current insurance needs with your agent, broker or company representative to make sure your coverage is up-to-date is a great way to start the New Year off on a firm financial footing," said Michael Barry, vice president, media relations, I.I.I. «Read the rest of this article»
I.I.I. Offers Crime Prevention and Insurance Tips to Weary Shoppers
New York, NY – With everything easily available from wines and perfumes to electronics and toys, online shopping is an increasingly attractive alternative to braving the local mall during the holidays. However, it can also pose a risk to your identity, according to the Insurance Information Institute (I.I.I.).
As online shopping becomes increasingly popular, more and more people are going to the Internet to take care of their holiday purchases. Seventy-two percent of U.S. online consumers say they will shop online for holiday gifts this season, according to exclusive research conducted for Internet Retailer. And this year's Cyber Monday (the Monday after Black Friday, a focus point for online holiday retail sales promotions) was a case in point, proving to be the busiest online-shopping day in U.S. history, with sales reaching $1.03 billion, up 16 percent from a year ago, according to comScore Inc.
«Read the rest of this article»