Topic: interview
Event in Clarksville part of Nationwide program "Mission: Transition"
Workshop to include Job Search Strategies, Resume Optimization and Interview Tips

Clarksville, TN – In an effort to assist the Clarksville military community as they transition into the civilian workforce, The Home Depot store in Clarksville Tennessee will host a Civilian Career Workshop on Saturday, October 27th from 2:00pm to 5:00pm.
The Home Deport, which employs more then 35,000 veterans and active duty military, recognizes the strong skills the military community has to offer – as well as the challenges that many service men and women face in marketing these abilities to the civilian workforce.
«Read the rest of this article»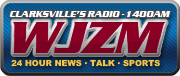 Clarksville, TN – In a interview on WJZM 1400 AM, Clarksville Gas and Water Department General Manager Pat Hickey has announced the implementation of Stage One of it's Drought Management Plan in an effort to get citizens to "voluntarily" curtail their water usage.
The hot dry heat that has pounded the Clarksville-Montgomery County area, plus construction at the new Hemlock plant has caused extra stress on the City of Clarksville's water supply. «Read the rest of this article»
Clarksville, TN – When asked why he applied to be the next director of the Clarksville-Montgomery County School System, Dr. B.J Worthington said "The time was right for me to seek this job, and take the next step in my career.  I just want to help move the district forward."
Dr. Worthington was speaking on a weekly radio show, "Clarksville in Review" on WJZM1400am this past Saturday.
«Read the rest of this article»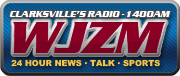 Clarksville, TN – Tune in to 1400am, WJZM for Clarksville in Review Saturday morning as Clarksville Mayor Kim McMillan will be talking with Hank Bonecutter from 8:00am-9:00am. They will be discussing the latest topics concerning Clarksville citizens.
If you miss the show, you can listen to the podcast on www.wjzm.com
Clarksville, TN – On Saturday, August 6th, City of Clarksville's Mayor Kim McMillan sat down with Clarksville Online, Discover Clarksville, and WJZM's Hank Bonecutter to answer some questions on the top topics in Clarksville TN.
Some of the topics covered include the Mayor's Health, East-West Corridor, Rezoning issues and several others. «Read the rest of this article»
Clarksville, TN – On January 15th, 2011, Clarksville Online interviewed Clarksville's Mayor Kim McMillan at WJZM's radio station.
Though Monet said, "My life is useless," artist Judy Lewis disagrees with this statement, though she can see how Monet may have felt this way. "It is a tough life to live struggling to make a living as an artist because you feel such desire and passion. If you look at art history, many artists lacked the customer base to feel appreciated during their lives," according to Lewis, a native Clarksvillian.
Lewis, a devoted mother, has one daughter, Keegan, from a previous marriage and has lived in Clarksville for the majority of her life. In addition, Lewis has done work in Texas, and recently returned from Gettysburg, PA.  Lewis has been steadily producing art work sometime after, Art Cantu, a Christian minister from south Texas, witnessed to her, and sparked a hope in her that she could achieve her dreams. At this point in her career,  Lewis has done over 300 exhibit-worthy pieces, and continues to produce more art every day, not counting numerous drawings.
Of late, Lewis has delved into painting oils and acrylics with a style and color technique as unique and original as her drawings. The painting, Phoenix Rising on Angel's Wings, captures the colors of a young girl and her gallant horse, Angel, as they properly go riding across a verdant field. Her vivid brush strokes in Christmas Carriages on Franklin Street capture the light and color of night lights downtown during a Christmas extravaganza. «Read the rest of this article»