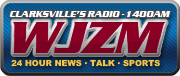 Clarksville, TN – In a interview on WJZM 1400 AM, Clarksville Gas and Water Department General Manager Pat Hickey has announced the implementation of Stage One of it's Drought Management Plan in an effort to get citizens to "voluntarily" curtail their water usage.

The hot dry heat that has pounded the Clarksville-Montgomery County area, plus construction at the new Hemlock plant has caused extra stress on the City of Clarksville's water supply.

As the demand for water increases during weather conditions such as these, and city officials are hopeful that citizens will do their part and pitch in by conserving water usage.

"Basically, we're required to have a  Water Conservation and Drought Management Plan by the Tennessee Department of Environment and Conservation and it lists "triggering" criteria that we can go back and look at to determine when we need to implement certain phases of the plan, according to Hickey.  The triggering event for this notice of conservation was, we're doing construction at the new Hemlock plant and as a result of the construction, our water plant is not capable of running at full capacity right now."

Hickey also said, "The demand for water is the same amount that we're able to produce, so we're asking people to voluntarily conserve at this time."

With temperatures expected in the triple digits this weekend, and no relief in site, Hickey is hopeful that mother nature produces some rain, so that Stage Two of their plan does not have to be implemented.  Stage Two is mandatory water rationing.

"If our water demand reaches or exceeds ninety percent of the delivery capacity for three consecutive days, or we have short term deficiencies, then we have to implement Stage Two and make it mandatory.  We can enforce that because people who have water meters for irrigation and watering their lawns are something we can monitor."

To listen to the interview with General Manager Pat Hickey, visit www.wjzm.com.



About Hank Bonecutter
Sections
News
Topics
1400 AM WJZM, CG&W, City of Clarksville, Clarksville Gas & Water Department, Clarksville TN, Clarksville-Montgomery County Area, Drought, Henlock Semiconductor, Hot Weather, interview, Pat Hickey, Temperature, Tennessee Department of Environment and Conservation, Water Conservation, Water Conservations and Drought Management Plan, water supply, WJZM