Topic: Kyle Fleming

Clarksville, TN – An Endangered Child Alert issued February 27th for Christopher Ponce after he was taken by William Stanley King his father from Clarksville, TN. A joint investigation involving the Tennessee Bureau of Investigation, the U.S. Marshals Service and the Clarksville Police Department has resulted in the recovery of a 9-year-old Ponce.
On Wednesday, August 19th, 2015, the Clarksville Police Department's Sgt Tina Slaven and Detective Kyle Fleming brought William Stanley King back to Clarksville from Atlanta, GA.
«Read the rest of this article»

Clarksville, TN – Today August 14th, 2015, 27-year-old Brandon Kyle Hester was booked into Montgomery County Jail with the chargeed with two counts of Rape of Child, two counts of Aggravated Sexual Battery, two counts of Aggravated Statutory Rape, and two counts of Sexual Battery by an Authority Figure with a total bond amount of $150,000.
These incidents took place while Hester was teaching in the Clarksville-Montgomery County School System (CMCSS). He worked with CMCSS from 2010 to 2012.
«Read the rest of this article»
The Clarksville Police Department Can Help

Clarksville, TN – In the past few months, several Clarksville citizens have requested assistance in starting Neighborhood Watch Programs. There is good news! We do assist in starting up Neighborhood Watch Programs. Currently, Crime Prevention Officer Kyle Fleming is involved in, at least, three different start-up programs.
The first Neighborhood Watch Program meeting was held on July 19th, 2014 for the North Park Subdivision (located off Ringgold Road), and approximately 20 people were in attendance. The Neighborhood Watch Coordinator for the North Park Subdivision, Ms. Moore, has the support and backing of the North Park HOA.
«Read the rest of this article»

Clarksville, TN – On Monday, July 7th, 2014 the Club Magic Nightclub on 1310 Fort Campbell Boulevard is officially locked down by the City and the Clarksville Police Department.
Captain David Crockarell and Prevention Officer Kyle Fleming, along with District 1 personnel, and District Attorney John Carney and Assistant District Attorney Chris Dodson; have been investigating Club Magic since October 2013.
«Read the rest of this article»
Essential Information for First Responders in Emergencies

Clarksville, TN – Recently the Tennessee Department of Transportation (TDOT), with the help of Senator Jim Tracy (R-Shelbyville) and Representative Curtis Halford (R-Dyer), launched the Yellow Dot Program.
Tennessee is the tenth state to adopt this program. It has been adopted as a way for emergency personnel to have essential information about one's health during a medical emergency or accident.
When an individual enrolls in the Yellow Dot program they are given a packet. Inside that packet is a brochure of information about the program, a brochure where they can fill out their medical information, and a yellow circle sticker. «Read the rest of this article»

Clarksville, TN – A collaborative effort between Clarksville Police Department and the Montgomery County Sheriff's Office put a man with an Aggravated Robbery warrant behind bars.
MCSO received a tip that Mark Austin Ellis was at a residence on Lincoln Drive. CPD was contacted and assisted in taking Ellis in custody without incident a little after 10:00am.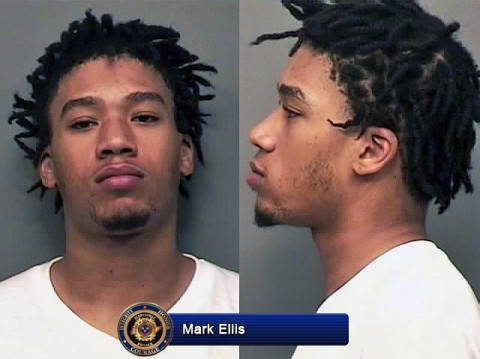 «Read the rest of this article»

Clarksville, TN – Clarksville Police Officers working the DUI saturation patrols, partially funded by the Governor's Highway Safety Office, snagged Clarksville's first DUI arrest and DUI related crash arrests for 2012. CPD charged a total of 13 DUIs between December 31st and January 1st.
The first DUI arrest for 2012 was a 77 year old man. On January 1st, 2012, around 12:29am, Officer Kyle Fleming spotted a maroon Dodge Stratus traveling on Madison Street without its headlights on. Officer Fleming stopped the vehicle and upon initial contact with the driver noticed the driver, Roy Young, had slurred speech and slow to respond.
«Read the rest of this article»

Clarksville, TN – On December 1st, 2010, at 9:30am, there were 11 new Police Officers welcomed to the ranks of the Clarksville Police Department by City Officials, families, friends, and fellow Police Officers. The officers were Sworn-In by Clarksville's Mayor John E. Piper.
The new officers are John Burdge, Matthew Ferrell, Christopher Robinson, Ryan Steinlage, Christy Arwood, Todd Bell, James Atkins, Avery Lambert, Kyle Fleming, Brittany Boisseau, and Morgan Northrup.
«Read the rest of this article»
Clarksville, TN – There will be 11 new officers sworn-in by Mayor Johnny Piper, Wednesday, December 1st, 2010, 9:00am, in the Mayor's Conference Room. This is the largest group of new officers to be sworn-in since 2003.
The new officers to be sworn-in are: Ryan Steinlage, Matthew Ferrell, James Atkins, Christy Arwood, Christopher Robinson, Avery Lambert, Brittany Boisseau, Kyle Fleming, John Burdge, Todd Bell, and Morgan Northrup.