Topic: Osvaldo Di Paolo Harrison

Clarksville, TN – This year marks the 10th anniversary of the Austin Peay State University (APSU) bilingual (Spanish and English), scholarly, peer-reviewed journal, Polifonía Journal. The journal, first launched in 2011, is dedicated to scholarly essays about literature and film in the Hispanic world and offers something different for its writers each year.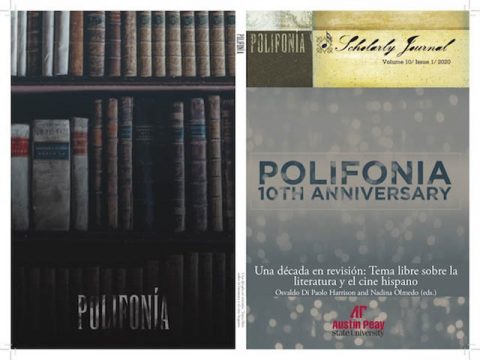 «Read the rest of this article»

Clarksville, TN – Last year, The Wall Street Journal published a disturbing article with the headline, "Women in Latin America Are Being Murdered at Record Rates." In the piece, journalist Juan Forero explained that "Women die disproportionately at the hands of men throughout much of Latin America."
«Read the rest of this article»
Austin Peay State University (APSU)

Clarksville, TN – Smartphone photos are fine for most tourists, but when Austin Peay State University (APSU) student Amir Elraheb first experienced the splendor of Madrid, Spain, he pulled out his watercolors to truly capture the city.
"It's sort of like a photograph, but when you are painting you have to pay attention to the details of whatever you're looking at so much harder, so scenes are engrained in my head," Elraheb, an Austin Peay State University foreign language major, said.
«Read the rest of this article»

Clarksville, TN – In 1978, the Spanish crime novelist José García Martínez-Calín created Gay Flower, a tough private detective reminiscent of Mikey Spillane's Mike Hammer and Raymond Chandler's Philip Marlow.
Flower's adventures through the hardboiled underworld of 1940s Los Angeles helped revive crime fiction in Spain and Latin America, but Martínez-Calín is rarely mentioned in academic journals or invited to the genre's many celebrated literary festivals, like Spain's popular Semana Negra (Black Week).
«Read the rest of this article»

Clarksville, TN – At Austin Peay State University's Hispanic Cultural Center, visitors often hear the phrase, "Where strangers become amigos and amigos become familia."
"That's our motto," Louise Mitchell, HCC coordinator, said. "That's what we're all about, and we want to continue that theme after our students graduate."
«Read the rest of this article»

Clarksville, TN – On the surface, hardboiled literature tells a story of street smart investigators, navigating a world filled with action, intrigue and sex. Cynical antiheroes fighting for justice in a world just as corrupt as the bad guys they are trying to collar.
At its core, the genre is a cracked door, allowing the reader an opportunity to examine the social issues of the writer's day. Topics of race, politics, corruption and violence are sometimes uncomfortably explored by a character adhering to a moral code in a world that seems to have lost its way.
«Read the rest of this article»

Clarksville, TN – Two Austin Peay State University professors have been awarded summer research grants to further their development as both educators and professionals in their fields.
Associate Professor of Latin American Literary and Cultural Studies Dr. Osvaldo Di Paolo Harrison and Associate Professor of Music, Voice Dr. Jeffrey Williams have each been awarded $5,000 summer research grants by APSU's Department of Research to develop research projects during the summer, that may place them in a better position to seek external funding.
«Read the rest of this article»