Topic: Solo

Clarksville, TN – Officers surrounded Police Service Dog Solo today, as he peacefully passed on after faithfully serving the City of Clarksville and the Clarksville Police Department since 2011.
Solo was a 10 year old German Shepherd that was dual trained for patrol activities and narcotics detection.
«Read the rest of this article»

Clarksville, TN – From December 8th to the 12th, Officer Casey Stanton and his K-9 partner Aires along with Officer Joey Scruggs and his K-9 partner Solo attended the 26th Annual K-9 Team Street Survival Seminar in Sevierville, TN.
This seminar was designed to enhance K-9 team proficiency at basic and advanced levels with a focus on patrol and narcotics detection. The most advanced techniques and methods in law enforcement K-9 patrol and narcotic detection were discussed and demonstrated.
«Read the rest of this article»

Clarksville, TN – On May 1st, 2012, Clarksville Police Department's Police Service Dogs were presented with their own personalized badges. The idea was the brain-child of Capt Craig Gipson, Special Operations Commander.
When Officer Joey Scruggs', retired Police Service Dog, "Q" passed away, Captain Gipson came up with the idea of a departmental badge for the department's Police Service Dogs since they are, essentially, the K-9 handlers law enforcement partner.
«Read the rest of this article»

Clarksville, TN – The Clarksville Police Department K-9 section recently returned from attending a 6 week Police Handler Trainer Course at Southern Police Canine, Inc. which operates a 27 acre training facility, 35 miles east of Raleigh, North Carolina.
They met up with two new police dogs Karma and Solo. The dogs had undergone two full months of training on how to be a police canine prior to being joined up with their Clarksville Police Department handlers officers Joey Scruggs and Officer Ben Blackmon for additional training.
«Read the rest of this article»
Man and K-9 worked in concert to locate and take a "Frequent Flier" vehicle burglar into custody.

Clarksville, TN – On November 30th, 2011, around 3:45pm, officers responded to the scene of a vehicle burglary that had just occurred in the parking lot of 1823 Madison Street.
A witness inside of a business saw a man open an unlocked car door and take items from the vehicle. When the witness went outside, the man saw her and took off running.
She got into a truck with a coworker of hers and tried to follow the suspect to see where he was running. She lost sight of him after he ran through some yards on Valley Road and Merritt Drive.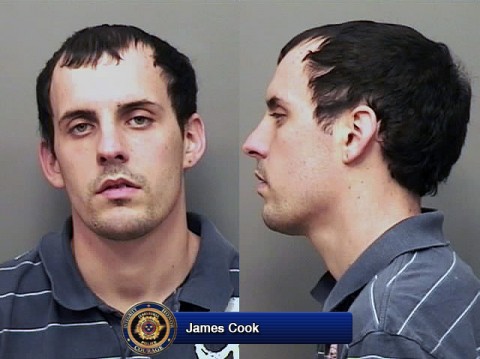 «Read the rest of this article»