Clarksville, TN – The Clarksville Police Department K-9 section recently returned from attending a 6 week Police Handler Trainer Course at Southern Police Canine, Inc. which operates a 27 acre training facility, 35 miles east of Raleigh, North Carolina.
They met up with two new police dogs Karma and Solo. The dogs had undergone two full months of training on how to be a police canine prior to being joined up with their Clarksville Police Department handlers officers Joey Scruggs and Officer Ben Blackmon for additional training.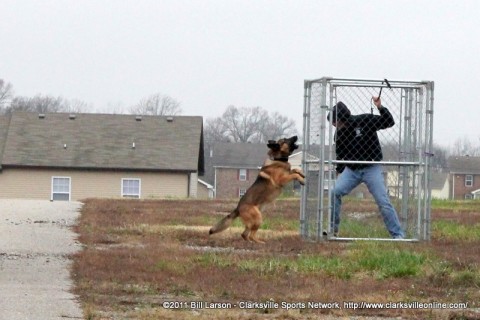 The acquisition brings the Clarksville Police Department K-9 Unit  to four active teams Officer Joey Scruggs with Solo, Officer Gabriel Johnson with Main, Officer Casey Stanton with Aris, and officer Ben Blackmon with Karma. SGT David O'Dell who oversees the K-9 Section hopes to eventually have a total of eight K-9 Teams on the force.
The fully trained canines run $6,500 and training for their handlers is another $4,000. The new dogs have already been earning their keep as K-9 Officer Joey Scruggs and his dog Solo were recently called in to track down the a vehicle burglar, who was apprehended.
The handlers will continue training the dogs back in Clarksville, focusing on enhancing the independence in their dogs so that they do what they are naturally born to do. "We take the natural instincts that these dogs have and we tweak them to get the dogs to do what we want them to do. The dogs are very efficient in finding narcotics, finding evidence, tracking and apprehension," said Sergeant David O'Dell. He continued "We are in the process of taking their training to the next level." The dogs see the training process as fun, a game, but it is deadly serious.
A dog sense of smell is roughly 50 times more sensitive than the average humans nose. They can also differentiate between a wide variety of scents to find just the one they have been trained to locate.
Drug dogs are trained by playing with with a canvas toy that is stored in a container with the drugs they are going to be detecting.  The toy absorbs the scent of the drugs. When they are working, the dogs are not looking for the scent of Marijuana, they are actually looking for their toy. Their training has led them to associate their toy with the smell of drugs, the same process works for dogs trained in explosives detection. After they are trained to find one scent, they move on to the next one, until they can detect a variety of illegal substances.
There are two types of dogs active indicators and passive indicators. Most drug dogs are active alerters who scratch or paw at the source of the oder of drugs. A passive alerter sill simply sit down when they find the scent they are looking for, and are more commonly trained for explosives detection as pawing at a bomb wouldn't be a good idea.
The dogs have been trained to ignore distractions such as toys and treats, strong scents, bags, even food. "When they are searching a car and they scratch, it's not because they found your cheese burger its because they found illegal narcotics"
These dogs are at a whole different level than the dogs we have had before, they will provide the patrol officers and detectives with a valuable tool to use when investigating crimes.
For example if you have a homicide, and the suspect runs from the scene then pitches the weapon in the woods or off in a field somewhere, the dogs will be able to find it.
When criminals understand this fact, It's going to be a valuable addition to the Clarksville Police Department's crime prevention arsenal.
The training on that day included a vehicle with drugs inside, and a pursuit/tracking exercise. The dogs and their handlers undergo 2 full training days per month, and a few hours per week, along with 30 minutes of training per shift when time allows.
Photo Gallery