Topic: Tracy Barrett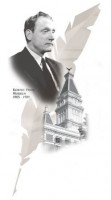 Clarksville, TN – Recently resigning from teaching at Vanderbilt University where she taught Italian, Women's Studies, English and Humanities, Tracy Barrett can now devote her time to creating more children's and young adult books. Her scholarly interests resulted in her Bachelor's degree in Classics-Archaeology from Brown University and a Master of Arts and Ph.D. In Medieval Italian Literature from the University of California at Berkeley.
A grant from the National Endowment for the Humanities to study medieval women writers led to the writing of her award-winning young-adult novel, Anna of Byzantium (Delacorte). Her most recent publications are King of Ithaka, a young-adult novel based on Homer's Odyssey; and the fourth book in The Sherlock Files, The Missing Heir (both Henry Holt). In September, Harcourt will publisher her young-adult retelling of the myth of the Minotaur, Dark of the Moon.
«Read the rest of this article»
Clarksville, TN – The Clarksville Arts and Heritage Development Council is pleased to announce the Eighth Annual Clarksville Writers Conference, being held June 7th and 8th, 2012, on the campus of Austin Peay State University.
We are very honored to have as this year's keynote speaker Alex S. Jones, Pulitzer Prize-winning journalist, author of Losing the News: The Future of the News that Feeds Democracy, and co-author of The Patriarch: The Rise and Fall of the Bingham Dynasty with Susan E. Tifft.
Jones, who is currently the director of the Joan Shorenstein Center on the Press, Politics and Public Policy at Harvard's John F. Kennedy School of Government, will speak at the conference banquet at the Clarksville Country Club on the evening of Thursday, June 7th. «Read the rest of this article»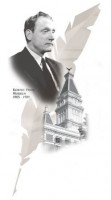 Clarksville, TN – Unlike previous years when this event was held in July, the Eighth Annual Clarksville Writers Conference will be held this year on June 7th and 8th at Austin Peay State University's Morgan University Center. The banquet will be held on Thursday night, June 7th, at Clarksville Country Club.
This year's conference is dedicated to the memory of William Gay, prize winning author from Hohenwald, who died on February 23rd, 2012. A special tribute to this three-times conference participant will be held on Thursday afternoon. (See "On the Passing of William Gay" on clarksvilleonline.com, February 25.)
«Read the rest of this article»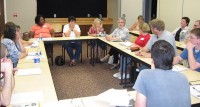 Writer Debbie Boen offers Clarksville Online readers a view of the participating authors in the recent Clarksville Writers Conference at APSU. Each author discusses the work, the ideas and influences of their writing, and suggestions for aspiring writers.
Barry Kitterman: Editor, playwright, professor of literature and author of The Baker's Boy
Always exposing Clarksville to creative writing through his classes at APSU and the visiting writers series is Barry Kitterman. He told us the background of and read a passage in his book, The Baker's Boy. It is a story set in Belize where we explore the world of a school teacher Tanner Johnson, who is in the Peace Corp. Taking the first steps into the school Tanner saw two boys fighting and it wasn't even breakfast yet. He sees a boy disciplined by being beaten with a rope. The 15 boys in his class are wild birds suddenly in a cage when they are indoors. Out doors they re-energized as if fingers were in sockets. Tanner is a man who is painfully aware of his personal limitations and who, in present time, is incapable of being very responsible because of the doubt in himself. This is his story of how the past follows him. «Read the rest of this article»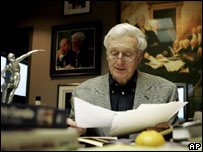 The Arts & Heritage Development Council of Clarksville, TN, is holding its 4th Annual Clarksville Writers' Conference July 10-12 at the Morgan University Center at Austin Peay State University.
Writers and readers are encouraged to attend this three-day event which addresses a wide variety of literature, including historical fiction, journalism, poetry, biography, short stories, storytelling, writing for young adults and children, fiction and nonfiction.
Conference holders are honored to have as this year's keynote speaker John Seigenthaler, Sr. (at left), renowned journalist, editor, publisher, political figure and current host of WNPT's book-review program "Word on Words."The conference banquet, held on the evening of July 11 at the Clarksville Country Club, will feature Seigenthaler and include a "Meet the Authors" reception and book signing. «Read the rest of this article»