Topic: Urban Ministries Grace Assistance Food Pantry
Clarksville, TN – October is designated as "Tackling Hunger Month". Arts for Hearts Arts Clarksville will host an Empty Bowls painting event to bring awareness to hunger in our community. Come paint a bowl and lend your creative hands and hearts on October 3rd, 2019 from 5:00pm-7:00pm at the Downtown Commons, 215 Legion Street, Clarksville.
A limited number of handmade bowls will be available to paint and decorate.
«Read the rest of this article»
September is National Hunger Action Month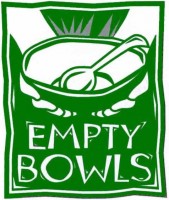 Clarksville, TN – In America we tend to think of hunger as a minimal problem. But, it is estimated one in six Americans – and one in five children in the U.S. – are dealing with a very real hunger problem. Nearly 15 percent of Americans live in food insecure households, where a lack of money and/or resources means there isn't consistent access to quality food and nutrition.
September is National Hunger Action Month; nationwide people are asked to take action to fight hunger in their communities. Hunger Action Month offers an opportunity to share your time, talent and resources to impact your local food pantries and soup kitchens to help feed Clarksville-Montgomery County Residents who struggle every day.
«Read the rest of this article»
Empty Bowls of Clarksville received $1,680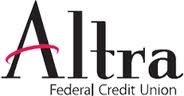 Clarksville, TN – Altra Federal Credit Union raised over $21,000 nationally with its Drive Away Hunger Campaign. "Hunger is a very real concern in the communities we serve," stated Cheryl Dutton, Vice President of Marketing for Altra Federal Credit Union. "Besides the financial contribution achieved by the campaign, Drive Away Hunger also generated awareness of the increasing need our communities face in feeding the hungry."
Altra donated $10.00 for every car, truck, and motorcycle loan financed through Altra from October 1st through November 30th.
«Read the rest of this article»
Over 1000 bowls are prepared for Empty Bowls 2014 Annual fundraiser!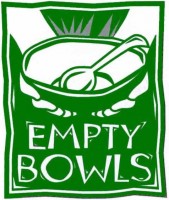 Clarksville, TN – The bowls come in all shapes and sizes with stripes, polka dots, swirls, crosses and flowers. Last week, under the direction of Professor Ken Shipley, volunteers lined up in the APSU Trahern Ceramics Studio to glaze hundreds of bowls decorated by the community for the annual Empty Bowls Clarksville-Hope not Hunger event to be held on February 25th, 2014.
The Empty Bowls project begins each year with Professor Shipley, volunteers and students making bowls from clay which the community paint and decorate.
«Read the rest of this article»
Sixth annual Empty Bowls Clarksville expands Hope Not Hunger fundraiser to six congregations in 2014.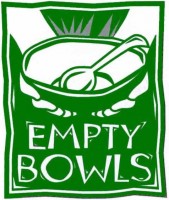 Clarksville, TN – The problems associated with hunger and food insecurity are not confined to the nation's largest cities. With over seventeen percent of Clarksville residents living below the poverty level, hunger and food insecurity are a harsh reality for many people in our community.
That means that hundreds of working adults, children and seniors in our community struggle with hunger every day. Food insecurity refers to the availability of food and access to it. Those who are considered food insecure do not know when they will have their next meal.
«Read the rest of this article»
Clarksville, TN – Hands on Clarksville invites the community to the second annual Empty Bowls "bowl-a-thon" hosted by Ken Shipley, Associate Professor Peay State University on Saturday, October 6th from 4:00pm to 8:00pm in the Trahern building located on campus.
The purpose of the "Bowl-a-Thon" is to produce a bowls for the "Empty Bowls" project. "Empty Bowls" is an annual joint fundraiser to raise money for Loaves and Fishes and Urban Ministries Grace Assistance Food Pantry and to raise awareness about hunger issues in our community. «Read the rest of this article»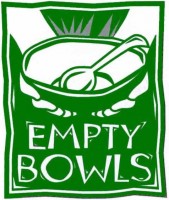 Start a new tradition in 2010—Get involved and paint a bowl to donate to Empty Bowls Clarksville on Thursday January 28th, 2010 from 5:00- 8:00p.m.. Each bowl painted will help feed our hungry neighbors and raise hunger awareness. The cost is $25.00, which includes everything you need to paint a bowl and you will enjoy light refreshments, plus you will receive a ticket to attend the Empty Bowls Soup Dinner on February 23, 2010.
All bowls painted will be available at the 2nd Annual Empty Bowls Clarksville Dinner where participants will be able to choose a hand-made bowl from hundreds that have been donated, and enjoy dinner that includes a variety home-made soups, bread, beverages and desserts. All proceeds will go to Loaves and Fishes, Urban Ministries Grace Assistance Food Bank and FUEL.
«Read the rest of this article»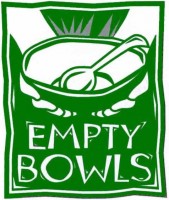 There is a wonderful "grassroots" movement growing around the country with the mission of feeding the hungry, disadvantaged and homeless and it's called "EMPTY BOWLS."   The effort is based on the international Empty Bowls program, where volunteers create bowls that are used to serve a meal of soup and bread during a fundraiser. The bowls serve as a reminder that there are always empty bowls in the world.
When you think of hunger and poverty, a lot of people think about 3rd world countries and they may not be aware that right here in Clarksville, Montgomery County we have a big need.  There are many people who are hungry, and although we have several local programs like Urban Ministries Grace Assistance Food Pantry, Loaves and Fishes (Soup Kitchen), FUEL and others, the need is still great. Agencies have reported close to a 40% increase in the number of persons they are serving, up from last year at this time. According to the USDA, over 36 million Americans are food insecure…and just do not have enough to eat.
«Read the rest of this article»