Over 1000 bowls are prepared for Empty Bowls 2014 Annual fundraiser!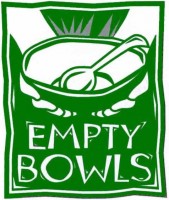 Clarksville, TN – The bowls come in all shapes and sizes with stripes, polka dots, swirls, crosses and flowers. Last week, under the direction of Professor Ken Shipley, volunteers lined up in the APSU Trahern Ceramics Studio to glaze hundreds of bowls decorated by the community for the annual Empty Bowls Clarksville-Hope not Hunger event to be held on February 25th, 2014.
The Empty Bowls project begins each year with Professor Shipley, volunteers and students making bowls from clay which the community paint and decorate.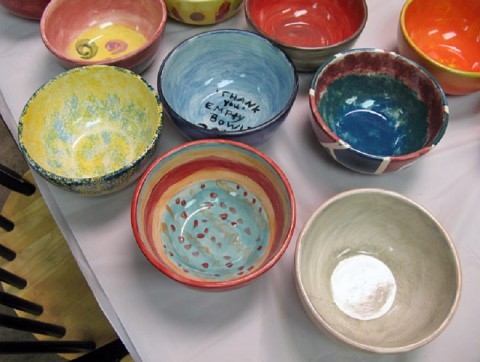 The bowls are then returned to APSU for the final glazing and firing before the annual event.
The bowl making offers local citizens an opportunity to get creative and helps serve those who are hungry and homeless.
With over seventeen percent of Clarksville residents living below the poverty level, hunger and food insecurity are a harsh reality for many. With help from the Empty Bowls Clarksville fundraiser, now in its sixth year, two local organizations Loaves and Fishes and Urban Ministries Grace Assistance Food Pantry can better serve those who need help.
Coming together to help feed our hungry neighbors is at the heart of the Empty Bowls grass roots movement.
To learn more about Empty Bowls Clarksville visit www.emptybowlsclarksville.org or call 931.551.5450. Like the Empty Bowls Facebook page.
The 2014 Empty Bowls Clarksville fundraiser will be held on February 25th, 2014 with both lunch and dinner being served.
This year Empty Bowl followers will be able to choose from five different lunch sites: Trinity Episcopal Church, Grace Lutheran Church, New Providence United Methodist Church, Sango United Methodist Church and The Jesus Christ of Latter-day Saints.
Lunch will be served from 11:00am-1:00pm. Dinner will be held at Immaculate Conception Catholic Church from 4:30pm-7:00pm and music will be provided by Lee Erwin. Tickets can be purchased from any host congregation or at Sango Pharmacy, 2197 Madison Street or Watchtower Self Storage, 2430 Madison Street.
Tickets will be on sale through February 22nd, 2013. No ticket sales at the door.