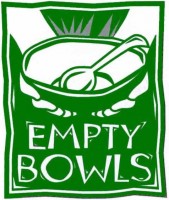 Start a new tradition in 2010—Get involved and paint a bowl to donate to Empty Bowls Clarksville on Thursday January 28th, 2010 from 5:00- 8:00p.m.. Each bowl painted will help feed our hungry neighbors and raise hunger awareness. The cost is $25.00, which includes everything you need to paint a bowl and you will enjoy light refreshments, plus you will receive a ticket to attend the Empty Bowls Soup Dinner on February 23, 2010.
All bowls painted will be available at the 2nd Annual Empty Bowls Clarksville Dinner where participants will be able to choose a hand-made bowl from hundreds that have been donated, and enjoy dinner that includes a variety home-made soups, bread, beverages and desserts. All proceeds will go to Loaves and Fishes, Urban Ministries Grace Assistance Food Bank and FUEL.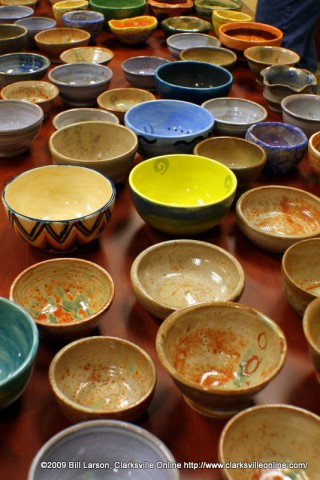 Remember, come and join the fun on Thursday January 28th, 2010 from 5:00-8:00 pm. at the Pottery Room located at 2214A Madison Street, next to the Choppin Block. Limited Space available, please call Rita Arancibia to reserve your seat at 931-551-5450 or e-mail by January 26th.
For more information about Empty Bowls Clarksville visit www.emptybowlsclarksville.org.
Thank you for your support.
Rita Arancibia
Empty Bowls 2010