Topic: Weatherly Drive

Clarksville, TN – A recent study released by Cohen Veteran's Network (CVN) shows Americans are concerned about their mental health during this COVID-19 Coronavirus pandemic.
With more than 90 percent of the U.S. population under some form of stay-at-home order, and physical distancing in place, the situation is beginning to have an impact on peoples' state of mind and bringing mental health care to the forefront.
«Read the rest of this article»

Clarksville, TN – In a time when nearly half of all marriages end in divorce, the Steven A. Cohen Military Family Clinic at Centerstone is using technology to help couples realize their happily ever afters.
Therapists at the Cohen Clinic, located at 775 Weatherly Drive in Clarksville, recently made it easier to nurture these relationships by breaking down the time and geography barriers to care by offering its first marriage workshop live online.
«Read the rest of this article»

Clarksville, TN – The Steven A. Cohen Military Family Clinic at Centerstone is calling all veteran and military family member artists to be a part of its one-year celebration. The clinic, which provides low-cost mental health care to Veterans and their loved ones officially opened its doors in Clarksville, Tennessee last summer. Now, in honor of its anniversary, staff members are hoping to celebrate in an artistic fashion.
«Read the rest of this article»
Nashville, TN – The American Red Cross has a critical shortage of type O blood and urges eligible donors to give now to help patients facing trauma and other life-threatening situations.
As a thank-you for helping replenish the blood supply, all donors who come to give blood or platelets now through June 10th will receive a $5.00 Amazon.com Gift Card via email.
«Read the rest of this article»
Clarksville Police Department (CPD)

Clarksville, TN – Clarksville Police are at 782 Weatherly Drive conducting an unattended death investigation.
Around 1:50pm, Monday, March 18th, 2019 a man was found inside of a vehicle deceased. There are no indications of foul play or anything which would lead investigators to believe there is any danger to the public.
Anyone with information can contact Sgt Newman, 931.648.0656, ext. 5340.
Annual Speech lists Goals and Achievements
Clarksville, TN – Clarksville Mayor Kim McMillan delivered her annual "Clarksville: State of the City" address to a group of about 200 civic leaders who gathered Tuesday morning for the Clarksville Area Chamber of Commerce Power Breakfast.
Highlights included a recap of the City's major accomplishments in 2016 and a preview of Mayor McMillan's goals and aspirations for the City in 2017.
«Read the rest of this article»

Clarksville, TN – Clarksville Police Detective Rodney Lifsey is currently investigating a Burglary at St Bethlehem Drugs and is requesting public assistance.
On February 1st, 2015 at 9:48pm, the Clarksville Police Department responded to a Burglary at St. Bethlehem Drugs on Weatherly Drive. The front door of the business had been pried open, and as Officers were clearing the business with the key holder it was discovered that some medication was missing.
«Read the rest of this article»
Nationally Recognized Cancer Treatment Team Expands in Clarksville
Clarksville, TN – Tennessee Oncology, one of the nation's leading teams of cancer care specialists, recently announced that Olaide Ajayi, M.D. has joined the medical staff at Tennessee Oncology's Clarksville location.
He will serve as a medical oncologist and hematologist, providing specialized treatment to cancer patients in their local community. Dr. Ajayi is the latest addition to the more than 60 Tennessee Oncology physicians practicing in 30 locations across Middle Tennessee.
«Read the rest of this article»

The man who robbed a Kangaroo Express on Tiny Town Rd is behind bars again.  On September 1st, 2010, around 2:23am, a man walked into the store pulled a handgun and demanded money from the clerk.  The man exited the store with the money.  An investigation by Detective Eric Ewing led to Christopher Michael Hembree being identified as the person who robbed the store at gunpoint.  Additionally, a 45 caliber handgun was recovered from Hembree's bedroom ; it was loaded with hollow point bullets.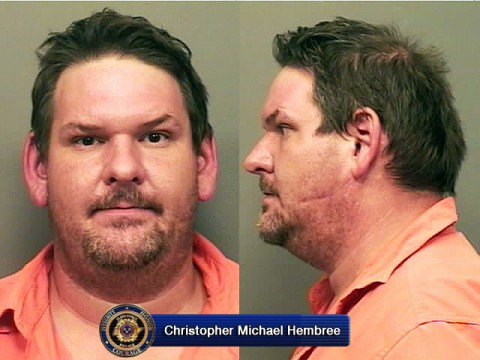 «Read the rest of this article»