Lord Jim is one Peter O'Toole's lesser known films, one that doesn't turn up anywhere with any kind of honor or fanfare. It is one of his best, though, based on Joseph Conrad's book (circa 1900). It is the story of a seaman, James Burke, a British Merchant Marine, proud, respected, who, after an injury is re-assigned to the Patna, a rustbucket boat with a rustier crew. Their cargo: Moslem pilgrims en route to Mecca. The storm-tossed ship begins to flounder, and Jim abandons ship with his crew without ever lowering a lifeboat for their passengers.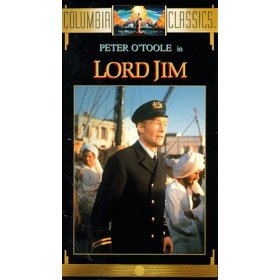 The Patna is unexpectedly salvaged, the passengers saved, and Burke and crew disgraced. Branded a coward, Jim becomes a guilt-laden drifter, unable to completely escape his past. His chance at redemption comes in form of gun-running — delivering arms to an indigenous tribe oppressed by a warlord.
But the line separating heroism from cowardice is thin, and the past comes racing forward with a chance at nobility, honor and personal salvation — but only at the highest, and most inescapable price.
Directed by Richard Brooks, this stunning film was shot in Angkor Wat (Cambodia), the Lautau Islands, Hong Kong, China, Malacca Malaysia and in British studios. The 1965 film, which runs 154 minutes, also features James Mason and Curt Jurgens.

The Lion In Winter: Acclaimed classic set in regal England, circa Christmas 1183. King Henry II (O'Toole) plans a family reunion unlike no other, in hopes of naming his successor to throne. But first he has to release his wife, Eleanor of Aquitaine (Katherine Hepburn), from the prison he keeps her in (after all, she tried to raise an army against him), assemble his three sons, the handsome Richard (Anthony Hopkins), the devious, calculating Geoffrey (John Castle) and the blithering, unkempt idiot John, ( Nigel Terry), each of whom desire the throne, Princess Alais (Jane Merrow as the king's mistress and promised bride — never mind that he's already married to Eleanor), and Alais' brother, the crafty King Philip of France (Timothy Dalton).
It's a story of family dysfunction, holiday depression, the model older son, the overlooked middle son and the over-indulged youngest son, of power and passion, all pulled together with the sharpest of writing and a fine directing hand.
Deceptions and rapier wit abound as brother plays against brother, husband against wife, king against king. It's hard to picture such drama unfolding with a repertoire of one-liners — but that's how it is: one of the best comes from Eleanor, as she sits in a dungeon, telling her husband and sons "every family has its ups and downs."

Lawrence of Arabia: This 1962 Academy Award winning film begins with the end of a life, that of Thomas Edward Lawrence (O'Toole), crook, sadist, and unlikely hero. Lawrence recalls through flashbacks his life as a soldier under an assumed name. He works intelligence in Cairo, and becomes involved in the investigation of the Arab revolt and against the Turks in WWI. He creates a guerilla army, leading Arabs in devastating raids against the turks and ultimately helping bring an end to the Ottoman Empire.
In the company of a cast that includes Anthony Quinn, Omar Shariff and Alec Guiness, David Lean masterfully weaves this majestic film against a panoramic landscape.
Drive-In Saturday Night runs every Friday in order to give you time to get the movies and stock up on popcorn. This films are the best, the funniest, the scariest or most quirky of films that played on Drive-In theater screens for many decades before the air-conditioned surround sound Imax's took over.