What do a shopping cart, two auto tires and a Leaf Chronicle newspaper box have in common? They were picked up today as litter along the shore of the Cumberland River in downtown Clarksville.
All that, along with chairs, buckets, plastic pipe and about 14 bags of trash, were pulled from the shoreline by a team of volunteers who call themselves the "muck pluckers," a volunteer team that braved the high heat, humidity and poor air quality to clean one small part of the city. «Read the rest of this article»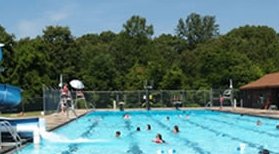 Just a few days before the start of school, tragedy struck Clarksville again – this time with the accidental drowning of a 12-year-old girl at Swan Lake Pool Saturday evening around 7 p.m. The girl had been pulled from the water and was receiving CPR from a Vanderbilt University nurse, who was present at a private rental event at the pool, when Montgomery County Emergency Medical Services arrived at the scene.
City lifeguards were on duty when the drowning happened. Officials did not disclose how the drowning occurred or whether city lifeguards made the initial rescue. No other details were immediately available, and Swan Lake Pool was closed Sunday, the last day of the pool season in the city. «Read the rest of this article»
The Icehouse Cafe hosted Ben Wilson's 30th birthday bash again this year with music and a variety of other entertainment. In the packed, smoke free, Icehouse Cafe, a rowdy (in a good way) crowd, one-third of them over 50, clapped and hooted for the bellydancers, the headbanging sounds of the band, The Non-Professionals, and, pictured at left, musicians David Britton and guest of honor, Ben Wilson.
The Cafe event showcased ongoing displays of political and other art, including my own work, Evolution of Medusa (a.k.a. 'Bob," pictured at right) and a life-sized George Bush rendering with a 'select a saying" comic strip bubble, which can be photographed. «Read the rest of this article»
One writer's look at sales tax amnesty and reasons for NOT shopping tax free weekend …
Tennessee offers a back-to-school tax-free shopping weekend every year, a benefit to families with students heading back to school. It's happening this weekend, August 3-5. It's a potential benefit to everyone including businesses who want a break on clothing, school or office supplies, and computers. The extent of items liberated from taxation have some restrictions, but the boon is not limited just to families with school age children. Small and large businesses benefit as well from the tax breaks, either as buyers or sellers of merchandise. Because everybody, not just parents of school age children or college students, can save. Seems like a good idea. But what is the reality? «Read the rest of this article»