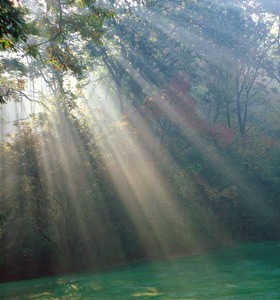 Instructions, prescriptions and specifications for a self-satisfying and successful life can be found in numerous sources including psychological books, television programs, charitable organizations, an avalanche of self-help books and in the scriptures of faith and religion in our society.
One pedagogical story credited to Jesus recently the devotional in The Upper Room [2.22.07] from Matthew's Gospel. Paraphrasing it , Harold, the author, said:
"Jesus tells the story of two men who built their homes on different foundations. When the storms and floods came, the house built on rock stood solid. The other one, built on a foundation of sand, was swept down the river with the flood."
In the Clarksville/Montgomery County community we see new housing springing up like the flowers in May. The housing market, though slow for the seller, is still on the move. Surprisingly, new houses are the same prices as pre-owned. Whatever the age of the home, I currently wish I had a larger house and yard. It would required to have a foundation that passed rigorous standards for safety and durability. These standards are rigorously enforced, since we rarely hear of a defective foundation, except when there is a sinkhole.
Our lives are on a solid foundation as a we continue to erect and build on a base of structure and values. Our underpinning for daily being is generosity and sensitivity to our fellow citizens of the world. We have the inner strength to prioritize our values. As I see it, we need to discuss and more time to such issues as "worrying about whether children have eaten when they arrive at school and should children be given mandatory prayer time." As a community we are thinking and "obsessing more about the beginning of life than of the end." Our foundation is defective when we have a fixation on private behavior instead of public generosity. A foundation of goodwill to all regardless of religious convictions or lack thereof, regardless of the color of skin or sexual orientation is beneficial to our community and to ourselves.
In 2008, a reasonable and reachable resolution is to strengthen and as needed to make changes in the our foundation of values. In this year, lets be done with the pious and sanctimonious platitudes and concentrate on the bedrock stuff about charity, mercy, peace and helping our neighbors who are divided by a nefarious war in Iraq.
The hymn, How Firm A Foundation, though sung since my conversion at age 16, still renews my spiritual energy and dedication to the highest values. In Verse 2 of this old favorite is the assurance as we change our values.
"Fear not I'm with thee, O be not dismayed, For I'm thy God and will continue to give thee aid, and I'll strengthen and help thee and cause thee to stand…"
This is a poignant verse and worthy of singing often to ourselves as the year moves on. Continue to solidify and build your foundation.