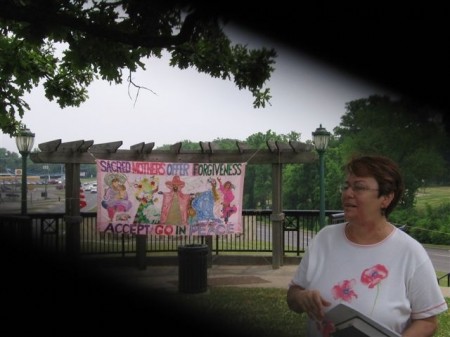 Early in 2005 I started the group, Clarksville Freethinkers for Peace and Civil Liberties. Christine was in the local Democratic group. We joined forces. I would call Christine and tell her what I was thinking of doing, and her instant response was, "When do you need me there? What can I do to help?" She lived out by the base, and when we had a downtown vigil, she hopped on a bus to get to it. She made things happen. She made no excuses. She took over planning vigils and calling the media.
Our most memorable, binding event happened when we heard that President Bush was landing at Fort Campbell in Tennessee, the home of the 101st Airborne, to travel to Hopkinsville, Kentucky, where he would talk to people (Republican supporters only) about his desire to seriously change social security. We tried without success to get onto the audience list, but Christine found out the exact line of travel that the Bush motorcade was going to take. We spent a day looking for places to 'greet' the motorcade. We made a list of possible places to stand, but when the day came for the presidential visit, the police tailed us, and kicked us out of all but one.
Though the cops told us we were not permitted to stand within 1,000 feet of the road, we did find one place to stand. A home with an empty roadside building had plenty frontage, We knocked on the homeowners' door, and they turned out to be anti-Bush.  With police and federal agents watching our every move (some supporting us too), and a news reporter wanting to get us on film, we stood on private property about 15 feet from the highway in the pouring rain, waiting for the motorcade. We wrote our slogans on the backs of our shirts after police told us our signs could not be used (they were "weapons"). The most emotional thing I ever did was to turn my back on the motorcade as it drove by. Even the planet obliged us with an eerie silence and a pause in the constant rain. Cops (including the Feds) were positioned all around our small group of 12 (mostly women and children) and the reporter filmed us. We were the voice of dissent. It was the first time I ever made such a powerful statement.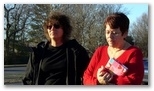 This event was topped only by the protest, a vigil we [at left, the author (r) and Christine] staged across from Fort Campbell and the 101st Airborne, where Christine's huge, hand-sewn IMPEACH BUSH sign hung over the Patriot's Park sign. Our rally grew as others joined us from this town and Nashville and with Honk for Peace signs, we heard a constant honking. Code Pink, en route from Atlanta to Chicago, stopped to join us, taking a "break" from their travel across the US. We would never expect everyone to agree with our protest, but we expect that everyone agree with our right to peaceful protest. A photo of the sign (below) was posted online with Freeway Blogger.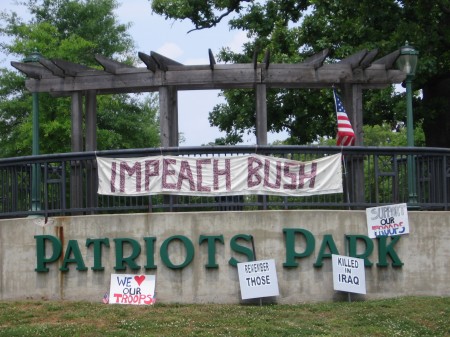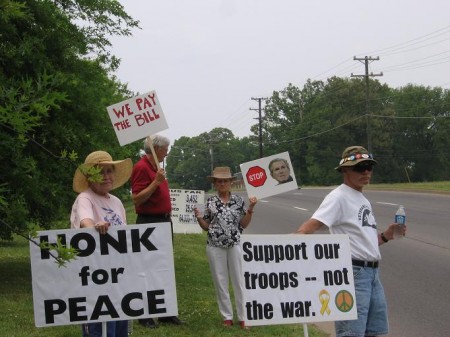 Bill Larson joined our group in writing letters to the editor in protest of the uninformed and ill-tempered public that mainstream media had carefully created. He later created the ClarksvilleOnLine web site to give our voices a neutral platform to speak from. Our agreed on purpose was to acknowledge the creative and good things that happen around us, to use our freedom of speech and right to dissent, and to report the news that mainstream media was ignoring.
As the site grew, Christine took on the editor position for the all volunteer ClarksvilleOnLine. For me, writing meant agonizing; it took me all morning to write one paragraph, one whole day or more to write a story. This stopped being a burden, because I could count on Christine to polish up my stories. She makes me look good and ClarksvilleOnLine look good.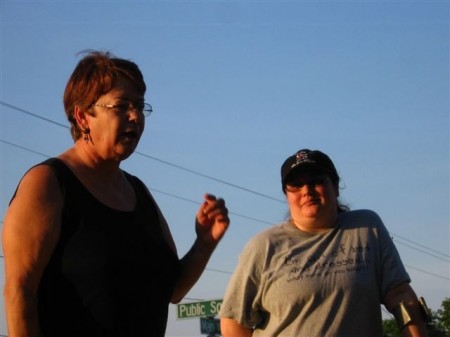 Christine (at left, speaking at a a vigil with daughter Kelly) is a very wise person, with wisdom drawn from her life endeavors. Hardships in life did not cause her to lose her energy to make things happen for herself and others. I've never seen anyone handle crisis so well. When her house burned down, she cried, and then she started making lists of what she could do in the face of overwhelming odds. By moving one foot after the other, she created her life again. She helps others do the same. She cares so much about her town, people and country. If she could, she would volunteer at every social function there is and go to every bit of live theatre. She is an incredible reporter and writer. She loves to contribute, enjoy life and laugh, and she's a sucker for stray animals.
Here she is being interviewed by her own Goddard college.
http://storiesfromgoddard.podbean.com/2008/02/26/stories-from-goddard-episode-1/