Appeal panel rejects termination. CFD Engineer Steve Sherlock's 18.5 year career tentatively continues.
In what became a marathon of persistence, a termination appeal hearing was conducted at the Clarksville Human Resource Department's meeting room. The hearing was for Clarksville Fire Dept. Engineer Steve Sherlock in his quest to continue his service with the city's fire department.
The hearing panel consisted of City Councilman Geno Grubbs, Sharon Hurst [CPD employee], and City Councilman Richard Swift. The hearing was conducted under a rotating police presence.
For over seven hours, the career of CFD engineer Steve Sherlock's future with the fire department was up for review. During the tedious ordeal, testimony was given that reflected on past city government policies and practices which affected the ability and practice of city employees doing business with the city.
The debate went back to the early days of Mayor Piper's first administration and the transition to Don Trotter's return to the mayor's office. There was tense debate and objections between the attorneys representing both sides. Political intrigue was even made mention as a motivation for the termination action and pursuit.
«Read the rest of this article»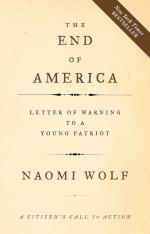 Naomi Wolf, author of the groundbreaking book The Beauty Myth, has been on the speaker circuit promoting her latest book, The End of America: Letter of Warning to a Young Patriot. It is a different track that her prior emphasis on women's rights and feminism. The End of America is "a harbinger of an age that may finally see the patriarchal realm of political discourse usurped."
Wolf enters a male-dominated political commentary arena dominated by men to make a compelling argument for civil rights. Her analysis falls closer to the bones of political discourse as presented by Emma Goldman, and presents her case with an energetic urgency as she cautions Americans of a dangerous "fascist shift" brought about by the Bush administration.
Chapters outline the "Ten Steps to Fascism" citing historical corollaries (as well as the pigs in Orwell's Animal Farm), with headings like "Invoke an External and Internal Threat," "Establish Secret Prisons," "Surveil Ordinary Citizens," "Restrict the Press," and "Target Key Individuals," making a case for the existence of fascism outside of a dictatorship. «Read the rest of this article»
Recently I had occasion to travel to Charleston, South Carolina. Going home has always been a special thing for me. Going out to the Atlantic Ocean is my favorite seaside pastime. On this trip a good friend took us to a islanders' favorite hangout which I can now boast is well worth the trip, all on its own.
Author Turner McCullough Jr. outside Sullivans
Sullivan's Island is home to Fort Moultrie, one of the fortifications which fired on Fort Sumter in the Charleston harbor, thus initiating the Civil War. The island is a small stretch of land with it's own lighthouse, historic sea captain homes, fortifications and bunkers of Fort Moultrie, but it enjoys a lively commercial district of eateries, guest houses and taverns. Most of these places open for the evening meal during the week and brunch on Sundays. The best of these is "Sullivan's," a seafood paradise at 2019 Middle Street, a family friendly dinning place that has been around for over two decades. «Read the rest of this article»