Recently I had occasion to travel to Charleston, South Carolina. Going home has always been a special thing for me. Going out to the Atlantic Ocean is my favorite seaside pastime. On this trip a good friend took us to a islanders' favorite hangout which I can now boast is well worth the trip, all on its own.
Author Turner McCullough Jr. outside Sullivans
Sullivan's Island is home to Fort Moultrie, one of the fortifications which fired on Fort Sumter in the Charleston harbor, thus initiating the Civil War. The island is a small stretch of land with it's own lighthouse, historic sea captain homes, fortifications and bunkers of Fort Moultrie, but it enjoys a lively commercial district of eateries, guest houses and taverns. Most of these places open for the evening meal during the week and brunch on Sundays. The best of these is "Sullivan's," a seafood paradise at 2019 Middle Street, a family friendly dinning place that has been around for over two decades.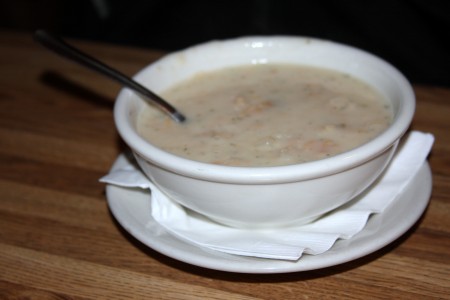 I treated myself to the Ft. Moultrie Steamer: steamed Alaskan King crab legs, peel & eat shrimp, corn on the cob, smoked sausage and drawn butter. As I am a New England Clam Chowder fiend, I ordered that as my appetizer. I must confess Sullivan's won me over with the very first spoonful. A hearty bowl of creamy chowder, saturated with clams, diced potatoes, dill and mouthwatering taste sensations was my reward. I was a goner!
The steamer platter came out steaming! The aromas were divine. Alaskan King Crab legs and claw, a generous serving of steamed shrimp, corn on the cob, smoked sausage and shaved butter melded together to just simply engulf my senses, and they succeeded!! I admit I attacked my steamer with dogged determination. The peep and eat shrimp were first on the list. Dipping the shrimp and the corn in the shaved butter and then biting in was such joy. My friend just sat there watching me indulge in this wondrous offering. I am a Charleston native and this was native seafood favorites prepared to delight and satisfy.
The King Crab was no small offering. Trying to retain a modicum of restraint, I used the shell cracker and worked each leg appendage loose and extracted its prize of crabmeat, dipping it in the shaved butter and guiding it to my waiting tastebuds. It was worth the work of extraction. I tempered this with the smoked sausage which proved to have a unique flavor of its own. I'm told it's a special Charleston recipe of seasonings, but I will only say, "Go get some, quick!" This was about forty-five minutes of gourmet taste indulgences. I was so engrossed in enjoying my meal, my friend noted that it was the first time he had seen me fail to offer to share my selections. I admit my guilt- it's true. I didn't even think to offer a bite. BUT, it was just too intoxicating to consider!
My friend and the restaurant treated me to a tasting of their Key Lime Pie. Grandmother's recipe, mind you! I will only say this – "There IS NO equal. Hands down, I have never tasted better." It was the perfect companion to my steamer and I must say, "what a delightful experience it was for my tastebuds. It was simply, Sublime!" I asked to kiss the pastry chef! It's that good. And there are no pictures of that!
So, if you allow yourself only one Atlantic Coast journey this summer, I urge you to let it be to Charleston. Enjoy the roar of the Atlantic Ocean, the waves breaking on the shore, the pelicans drifting overhead and go to "Sullivan's" on Sullivan's Island. Tell them, "Turner send his regards, and asks how's the pastry chef?" <www.sullivansrestaurant.com> Phone: 843-883-3222.
This unique "dome" shaped home was the only structure to survive a major hurricane.