The Women's Full Contact Football Team the Clarksville Fox has finished the 2008 IWFL Tier II Regular Season in first place. The Fox joined the largest and most competitive women's full contact football league the IWFL (Independent Women's Football League) this season. The Fox finished the year with a record of 7-1 winning their division and also the first place seed in the post season playoffs.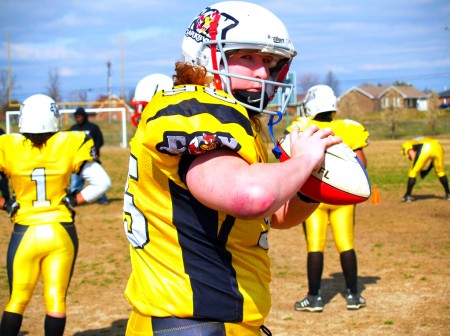 The Fox would like to invite everyone in middle Tennessee and Kentucky to come out to Northwest High School in Clarksville, TN. on June 28th to watch them take on the wildcard team, the New England Intensity, in the playoffs.
The gates will open at 6:00 PM with inflatables for the kids to play on, merchandise booths, and concessions. Tickets are $10.00 with all children 10 years of age and younger will be let in free! Those wanting to tailgate that Saturday are invited to bring their grills and party in the parking lot at Northwest High School, but remember alcohol is not allowed on school property. The kick off will be at 7:00 PM. Come out and support the best woman's football team in TN and the surrounding area, the Clarksville Fox, in the IWFL Tier Two's playoff game between the first place team the Fox and the wildcard team. The winner of this playoff game will go on to the IWFL Championship game in Chicago in July.
The Fox would like to dedicate this game to their fans and to the men and women of the United States Armed Forces. In part of showing our appreciation for the US ARMY, the games special guest doing the coin toss will be the Rear Detachment Commander of the 101st Sustainment Brigade LTC Jayme M. Sutton accompanied by Fort Campbell's 101st Honor Guard.
For more information about the Clarksville Fox, the IWFL, or the post-season games you can contact the Owner/General Manager Rob Brown by going to the web site http://www.TheClarksvilleFox.com/ or email Rob at CoachoftheFox@AOL.com.