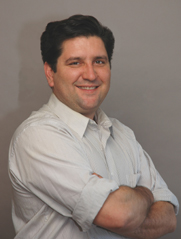 Big brother is watching you and his name is AT&T. Sometimes he goes by the name of BellSouth and at other times he is known as AOL-Time-Warner. Big brother goes by a lot of names. He is listening to you while you talk and watching you while you type and everything you say could be recorded so he can look at it somewhere down the line.
Now everyone knows that it is not polite to intrude on people in their private moments. The problem is that big brother doesn't seem to know that peeking into people's private communication is wrong and it should be illegal. Unfortunately President Bush wants to continue to grant immunity to telecommunications companies in the name of the so called 'war on terror' which in actuality is a war on the American people and the telecommunications infrastructure is the front line in the gradual diminishment of civil rights that Congress has permitted in recent years. «Read the rest of this article»
Clarksville activists sued for protesting eminent domain abuse join with national law firm to fight back.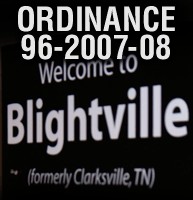 The Institute for Justice will stand with the Clarksville Property Rights Coalition on Monday, June 30, at 11 a.m. on the steps of the Montgomery County Courthouse at Millenium Plaza [corner of 2nd and Commerce Streets], to announce their legal plan to fight back against what they see as a "frivolous" defamation lawsuit filed by Clarksville City Councilmember Richard Swift and Wayne Wilkinson, a member of Clarksville's Downtown Development Partnership. "
Making the announcement will be Bert Gall, Senior Attorney for the Institute for Justice, and CPRC members Debbie Hunt, a homeowner, Joyce Vanderbilt, owner of Kelly's Big Burger, and Dr. Rebecca Slayden-McMahan.
IJ is a non-profit, public interest law firm that has a long and successful history of defending property rights and First Amendment freedoms nationwide.
The CPRC, a grassroots group, was formed in November, 2007, to fight the abuse of eminent domain after a controversial redevelopment and urban renewal plan was passed by the Clarksville City Council. The plan designated two square miles of downtown property as "blighted." «Read the rest of this article»
"The Confederate fighting force was white, but much of its support was black."
When historical fact collides with historical revision, details tend to become obscured.
The recent living history enactment at our own Fort Defiance/Bruce was embroiled in some controversy. The presence of African Americans as Confederate soldiers was highly disputed. Some claimed this an accurate representation of historical fact. Sadly, research has shown it was not quite so. The record shows that despite the obvious advantage such a measure would have given the South, the Confederate leadership steadfastly opposed slave emancipation and arming to defend the South.
Maj. Gen. Patrick Cleburne, CSA
One the Confederacy's most brilliant strategists, Major General Patrick Cleburne, a division commander in the Army of Tennessee, in 1864, proposed freeing slaves who agreed to fight for the South. He was not a slave owner himself and cared nothing for slaves or the institution of slavery. He did, however, wish to secure the establishment of the Confederate States of America.
As Cleburne saw it, the South was denying itself a tactical resource which the Union Army was utilizing against it at every turn as it gained more territory and ground the South into otherwise inevitable defeat. In his proposal, Cleburne admitted that only way to win Black support of the Confederate cause was to grant freedom to the slave and his family.
«Read the rest of this article»
What is at stake?
Warming so far, about two degrees Fahrenheit over land areas, seems almost innocuous, being less than day-to-day weather fluctuations. But more warming is already "in- the-pipeline", delayed only by the great inertia of the world ocean. And climate is nearing dangerous tipping points. Elements of a "perfect storm", a global cataclysm, are assembled.
Climate can reach points such that amplifying feedbacks spur large rapid changes. Arctic sea ice is a current example. Global warming initiated sea ice melt, exposing darker ocean that absorbs more sunlight, melting more ice. As a result, without any additional greenhouse gases, the Arctic soon will be ice-free in the summer. «Read the rest of this article»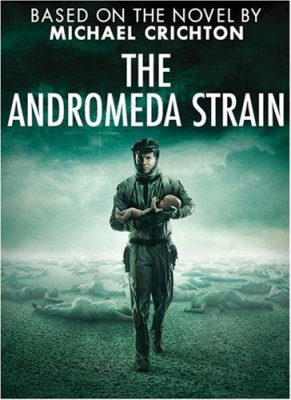 I'm not usually a fan of remakes, especially for a film I loved in its original form. The 2008 A&E production of Michael Crichton's The Adromeda Strain overcame the odds to be at least as good as the original, if not better. It's all a matter of perspective.
Crichton's best novel of the same name was a taunt, tense, pre-computer age sci-fi thriller with Dustin Hoffman as scientist and protagonist Jeremy Stone, head of the Wildfire Biohazard Response team.
In this upgraded version, Director Mikael Salamon stuck to the story (Wow, what a concept!) and used 40 years of improved and expanded technology to rev up the action and adapt the film to 21st century science. It's a place where the fiction is less improbable, the fantasy more believable, and, in the age of conspiracy theorists, corruption, terrorist threats and a new thrust toward space exploration are easily interjected into the film. «Read the rest of this article»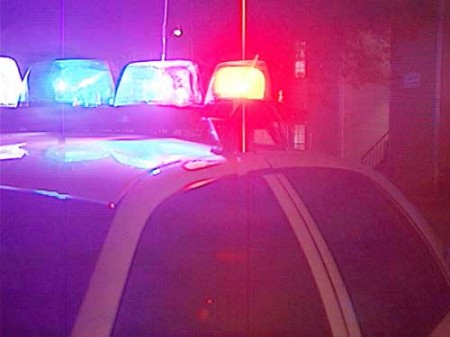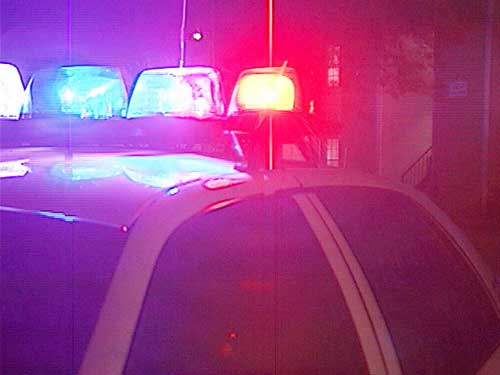 I've been looking over the two years' worth of notes I've kept for story ideas, all rooted in what I have observed within the Montgomery County boundaries. From a distance, a temporary vantage point in the northeast, and the rest of the time from the porch of my home in Clarksville, I've followed the shootings and killings and robberies in Clarksville, the ones that happen in the dead of night, the ones that happen in broad daylight in a Wal-Mart parking lot, and a string of crimes in between. Crimes of inebriation or addiction, crimes of passion or hate, crimes of despair, crimes of rage, crimes rooted in poverty and need, crimes anchored in greed Am I the only one not surprised?
I feel the strongest sympathy and sadness for the families, the residents involved, the innocent bystanders with lives sometimes forever shattered. But I do believe this escalation in violent crime is a tragedy waiting to happen, one that will repeat itself many more times if the city, the schools, the police and all of us — everyday citizens — don't become involved in our community, if we fail to stand behind a call to get tough and enforce the laws already on the books, and toughen up the sentencing and cut off the "deals" that spew offenders back onto the streets with minimal sentences and penalties too easily shrugged off. «Read the rest of this article»
The Montgomery County Democratic Party heard from several candidates in upcoming elections. Voter registration rally great success.
Tuesday night, the Smith-Trahern Mansion played host to the monthly meeting of the Montgomery County Democratic Party.
Delina Starr gave a report of the June 14th South Guthrie voter registration and candidate rally. Thanks was given to the support effort that came together to stage the rally. The rally was held at the historic Guildfield Baptist Church and lasted into the early evening hours.
After Starr finished her report, the attendees heard from several candidates or their designated representatives including Tim Barnes campaign manager Kim Smith, Senate District 22; Robert Hunt, County Assessor Office; and Althea Jack, campaign manager for Senator Rosalind Kurita, District 22; and U.S. Senate candidate Kenneth Eaton.
Introducing one of the Democratic challengers to US Senator Lamar Alexander, Nashville author Dean Mitchell, spoke of refuting the Republican Party's claim of its platform being based on Christian principles found in The Bible. He has authored a book which directly challenges this contention and debunks the falsehood the claimed biblical  references advanced from GOP spokespersons. «Read the rest of this article»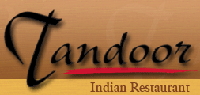 Cumin. Coriander. Tumeric. Cardamon. Red fennel. Red chilies. Clove. Tamarind. The essential spices of Indian Cuisine. Tandoor, the essence of cuisine from India, is returning to Clarksville with a grand opening slated for July 1 at a new location in Hampton Plaza at 2868 Wilma Rudolph Boulevard. Tandoor was considered to be one of the most romantic dining spots in the city, and owner Nasir Hakeem plans to keep the romance in the new location.
The original Tandoor was destroyed by fire In November, 2008, but Nasir stated then that he intended to rebuild. That's happening, but at a new location. Some items for the original location were saved: the ornate hand-carved screen from India you see as you enter the restaurant is just one example.
The new Tandoor is very similar to the former dining spot. Sweep aside a soft straw curtain and customers can tuck themselves into six booths with traditional floor seating, accented by colorfully embroidered pillows in satins, silks and cotton. Another four booths offer conventional seating, and center tables accommodate still more diners. The walls are colored a gentle peach, warm and inviting. Cut clay lamps diffuse the lighting for a soft but exotic effect. Wall hangings include small mirrored tiles, hand-carved wall pieces, and paintings. The restaurant can seat up to 80 people. «Read the rest of this article»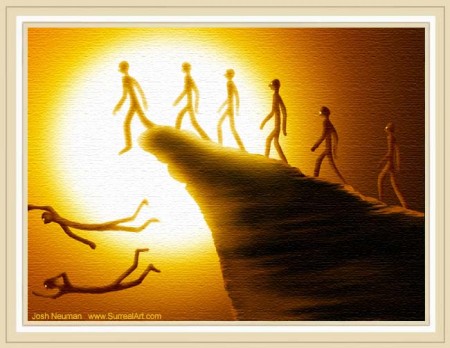 On the Road in America is an occasional and serendipitous column about people, places and observations, with publishing predicated on the random availability of internet access or lack thereof.
Being On the Road in America can sometimes be a bore.
Oh, there's a great deal of beauty to be seen, from the Green Mountains of Vermont to the rolling farmlands across Ohio, from the rugged Rockies and the dramatic coastline of California's 17-mile drive. That's not the issue.
As implied in Josh Neuman's Lemmings (right) ,what is troubling is the growing lack of identity, of uniqueness, of individuality, as one moves from state to state. North, south, east or west makes not a whit of difference. Commerce in America is cloning itself at breakneck pace, mass-producing blueprints for hotels, motels, box stores, shopping malls and restaurants that increasingly lack a sense of their own identity and certainly have no ties to community heritage or culture.
I'm on the road again, as Willie Nelson would sing, and I am heading for one of the few bastions of non-traditional development — via the central midwest to the rural northeast, home of green mountains, clothing optional backwoods beaches, interstate bike paths, and those perpetual golden arches relegated to the outermost borders of some cities. «Read the rest of this article»
On Saturday June 28th, Tom Neilson an award winning folk musician will do a benefit performance for Green Party candidates Christopher Lugo, U.S. Senate candidate, and John Miglietta, U.S. House candidate 5th district.
Neilson has been described as the Jon Stewart of folk music. He has won numerous awards including the 2007 South Florida folk festival and was a finalist at the 2008 Plowshares and 2006 Kerrville Folk festivals.
The fundraiser will take place at the home of Eric and Beth Lewis 7978 Highway 100 in Nashville and starts at 6:00 PM with a potluck. The musical performance starts at 7:00 PM.
Christopher and John are running campaigns which focus on ending the wars in Afghanistan and Iraq as well as advocating single-payer healthcare, environmental sustainability, developing alternative energy, electoral reform, and fair trade among other issues.
Tickets for this event are $10. For further information contact Christopher Lugo, 593-0304 or or John Miglietta at 364-7150 or .