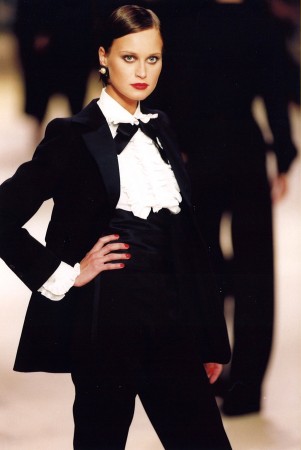 When I read of the death of legendary designer Yves Saint Laurent at the age of 71, I felt a generation of masterful design slipping away. He was among the last on a list of greats that include Coco Chanel, Givenchy, Pierre Cardin, Nina Ricci, Valentino, Oscar de la Renta, Balenciaga and Christian Dior.
That hallowed group spearheaded an era of glamour evidenced in romantic and elegant couture, offered unparalleled, unequaled garments that now grace fashion institutes and museums. [At left, First Tuxedo: 1966 Fall/Winter Collection No 76, Nap and satin silk jacket and trousers, madarin Tuxedo shirt. Tie, Cumberbund and satin silk ankle boots, metal cufflinks with fancy pearls. Foundation Pierre Berge — Yves Saint Laurent, Photo Foundation Foundation Pierre Berge — Yves Saint Laurent]
The creations of these master craftsmen of fashion were emulated, a source of inspiration to ensuing generations of fashion designers. They were trendsetters too, shaping fashion to match the shape-shifting of global cultures. Nowhere was that more evident than in Saint Laurent's transformation of the pantsuit for the world of working women. His adaptation and softening of the suits men wear to fit the emerging world of women in business was groundbreaking, changing the face of fashion in the workplace.
Actress Katherine Hepburn years earlier broke through boundaries with her confident stylish wearing of women's trousers in the 30s, but it wasn't until Yves Saint Laurent introduce pantsuits for the professional women in the 70s that the change took hold. «Read the rest of this article»