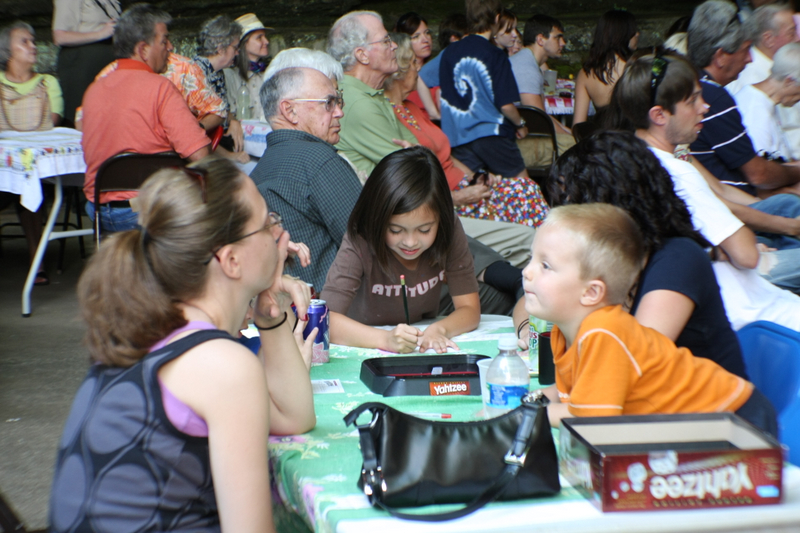 "Cooling at the Cave," held Saturday at Dunbar Cave, drew dozens of people eager to hear good music in the comfort of the cool air at the mouth of this Clarksville landmark.
Rows of chairs surrounded the mouth of the cave where the Holt Brothers Band played toe tapping music from 3-5 p.m. families and friends clustered around tables, playing everything from dominos to assorted board and trivia games. For others, it was simply a chance for good conversation among friends.
Friends of Dunbar Cave prepared a wide array of snacks — everything from cookies to chocolate nut confections to brownies and fruit bread. In addition to cold sodas, ice cold lemonade was the drink of the day.
Here is a selection of images from this popular summer event (Photos by Christine Anne Piesyk):
Special thanks from the Friends group go out to the Holt Brothers Band for their delightful music. Thanks to Barbara Wilbur for organizing this shindig; Bill Larson for arranging for and driving folks via golf cart between the cave and parking lot; Swan Lake Golf Course for the loan of a golf cart; Roxy Theatre for the loan of their chairs; Walter Marczak for his donation of chairs; the Boens for getting the chairs and microphone to the cave and back; Jack and Suva Bastin for providing sodas, lemonade and many other goodies. Thanks to Beverly Fisher, Kitty Madden and Jack Bastin for help with loading/unloading of chairs and tables and thanks to the many others who chipped in at the end. Thanks to the many stead fast and true volunteers who baked and helped out. Thanks to Senator Rosalind Kurita, who handed out prestigious awards to the Steve and Debbie Hamilton for their services to the Friends of Dunbar Cave. Thanks to Jack Bastin for making the awards, hand carved wood pens (the wood was taken from the park).