On the Road in America is an occasional column of chance, of seredipity, written in the course of my travels.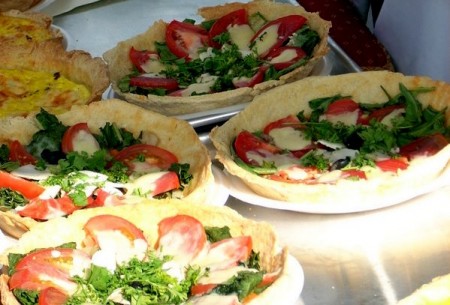 A buttery light tart filled with tomatoes, cheese and herbs. A light golden crepe folded around a filling of melted bittersweet chocolate and fresh homemade raspberry preserves. Crusty warm olive bread inviting buyers to break off a chunk and just eat. Jar upon jar of freshly made preserves (think strawberry, blueberry, red raspberry…). This is not your typical farmer's market.
Every Friday afternoon in a field on a country road in Hardwick, Vermont, vendors arrive to set up their tents and tables for the afternoon's sales. By 3 p.m., cars have filled the parking lot and spilled onto both sides of the road. This market more closely resembles a country fair.
The Hardwick Farmer's Market, featuring local produce, products and services, has plenty to offer every taste. vendors market whatever fresh vegetables are ready for harvest : snap peas, lettuce, early corn, cucumbers, and tomatoes are just a few items to be found here (keep in mid that gardens are started much later and are subject to freeze much earlier this far in the Northeast).
A big, bold hand-painted roadside sign advertises the festive weekly sale which is the ultimate shopping delight for "locavores." On this warm summer day, musicians kept up a lively country rhythm, providing entertainment and a respite for shoppers and their children.
My friend Robin and I and circled the sale area, beginning with a broad array of perennials, a severe temptation, given the massive landscaping job Robin is doing at her mountain home. Sold.
Vermont's premier product, maple syrup, was showcased by Echo Hills Farm, which presented the delicate amber syrup in an assortment of sizes and unique containers, including glass "maple leaf" bottles. Sold.
A local baker was surrounded by a U-shaped table set-up, each surface covered with large wicker baskets full of fresh stone-oven baked bread in a wide variety of flavors. I bought a crusty loaf olive bread, of which only half made it home. At as much as $6.00 a loaf, it had to be good; in fact, it was mouthwatering great!
A local chef, dressed in baker's cap and apron, offered the previously mentioned dessert crepe among the many delicacies she prepared for the day. We bought one, passing it back and forth between us since we had either my diabetes or our weight-watcher efforts in mind. Three bites each and the delicacy was gone. Shared, but gone. No, we didn't save a bite for her teen-aged son.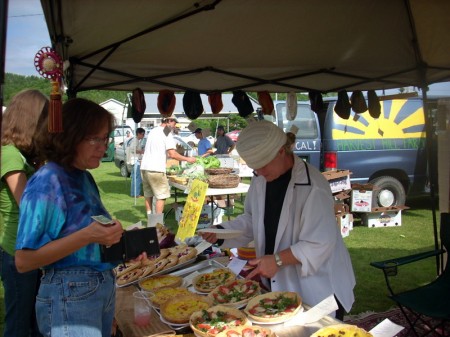 Even holistic health practitioners join this festival, bringing a bit of alternative health care option to the table with a display of services and information available in the region. They are more than happy to discuss holistic health options and the value of complementary care.
This roadside gathering of laughing children, friends pausing to chat, and vendors discussing their products and recipes (many organic) gave a festive atmosphere to one of the finest outdoor markets I've visited. The Hardwick Farmer's market is one of many such markets scattered about New England that have stepped beyond the ordinary to create a social occasion behind sale and service. Ultimately, though, the idea is to "Buy Local" and support the many farmers, gardeners, health practitioners and craftspeople who work in this Green Mountain region.