The Native Cultural Circle's 11th annual PowWow will showcase traditions, culture and customs in a truthful reflection of Tennessee native people. Songs, dance, drums, regalia, arts and crafts are all part of this Native Culture celebration.
The public is invited to attend the Native American Cultural Circle's 11th annual Inter-Tribal Powwow on October 11-12. The powwow will be held at the campgrounds outside Port Royal State Park, Hwy 238 Port Royal Road. The gate opens Saturday at 9 a.m. and the powwow will continue until 6 p.m.  On Sunday, the PowWow runs from 10 a.m. to 5 p.m., when the "The Retiring of the Colors" ends the event.
The Trail of Tears March Commemorative Re-Enactment will kick-off the powwow opening. Activities will then focus on the powwow grounds site starting with "The Posting of The Colors."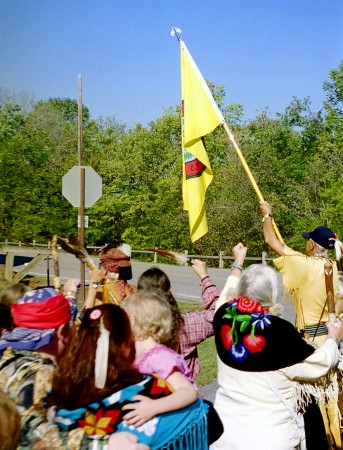 The powwow host drum is the White Horse Singers of Alabama. Traditional songs and dance will be featured both days. All native drums are welcome. There will be Native arts and crafts as well as clothing vendors along with food and drinks vendors. The public is invited to come share in Native American culture, foods and shop the various arts and crafts. There will be also a silent auction and Native grown organic popcorn will be on sale.
Bring your lawn chairs, wear comfortable shoes and enjoy the dancing. Pet dogs will be allowed onto the grounds, but must be on a leash at all times. For everyone's enjoyment of the grounds, we ask you to please police your animal's droppings. Refuse stations are available on site.
Admission is Adults (16 to 59 years of age), $5; Children 15 and under, Free; Seniors (60 years of age and up), $2. Active-Duty military with Military ID-FREE.
Directions to the Powwow: Take I-24 West, at Exit 11, Turn Right onto Hwy 76E. From Nashville: Right on Old Clarksville Springfield Rd, Left on Hwy 238/Port Royal Road. From Clarksville: Left on Old Clarksville Springfield Road. Left on Hwy 238/Port Royal Road. Parking on the powwow grounds is free. There will be designated areas for the handicapped and motorcycles.
For more information, contact: Paul Slaughter- 931-358-4187 or email: ; "Red" Kirby, 931-368-1246 or email: .