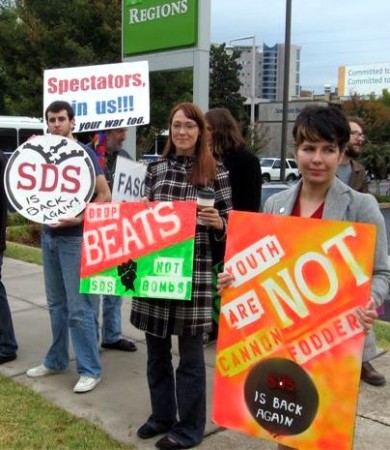 As a global audience tuned in on the second presidential debate, held at Belmont University in Nashville, all the action was happening on the streets surrounding the campus. Political commentators and pundits agreed that the town hall debate format simply didn't work, that the hoped for verbal battles failed to detonate any real excitement. Outside, it was another story.
I opted out of specific local debate coverage, and with CO writer Debbie Boen instead headed to Nashville to make our own voices heard. Debbie, founder of the FreeThinkers for Peace and Civil Liberties, and I (a devout member) headed for 21st and Blakemore, two blocks from the Debate Hall, center of the Nashville Peace Coalition et al rally and press conference. The Coalition the night before sponsored "an alternative debate" featuring the other candidates in the running for the US presidency. The ones without the political machine and the super-sized budgets.
Nearing Nashville on I-24 we were greeted with traffic signs directing debate trackers to the proper exits, so naturally, we made a wrong turn, got slightly misdirected and ended up exactly where we needed to be. Serendipity can be wonderful.
As we navigated Nashville, we were amazed at the sheer volume of Obama and issue-oriented activism; the streets were overflowing with energized people, male, female, old, young, diverse economic backgrounds. All motivated and more than ready to have their voices heard. At 4 p.m., the streets had already been layered with activists for hours. At 5 p.m., the press conference and public statements that had lured us to Nashville began.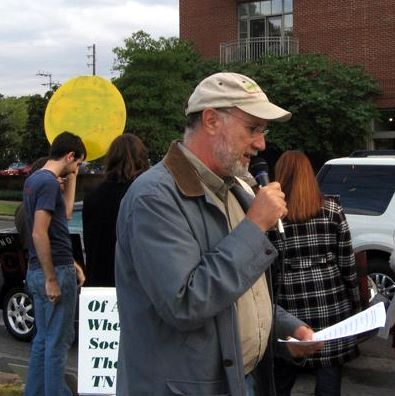 "We have seen what Nashville looks like during a small gas crisis — tempers flaring, people irate — long lines. What would happen if it lasted a week? A month? A year? If the power shut down? How about if the food ran out in the grocery stores? If nobody removed your trash? How would people react? We've seen a taste of things to come in New Orleans? Welcome to the next Miramax movie."
Then cam a quoted from a 9.8.08 Army Times article, barely a blip on the media radar, that reported:
"The 3rd Infantry Brigade Combat team that has spent 35 of the last 60 months in Iraq patrolling in full battle rattle, helping to restore essential services and escorting supply convoys has now been ordered to come home and be under the command of the US Army North, an on-call federal response force for natural disasters or manmade emergencies including terrorist attacks.
"The 1st BCT's soldiers will learn how to use 'the first ever nonlethal package that the Army has fielded'" states 1st BCT Commander Col. Roger Cloutier — referring to crowd and traffic control equipment and non lethal weapon designed to subdue unruly or dangerous individuals without killing them."
As this voice boomed through the crowd and across Nashville streets, listeners were reminded of  how these weapons were used most recently at protests during the Republican national Convention. Pepper spray, tazers, assault weapons and sound grenades used by police in tandem with federal officials and task force. The result? Dissenting opinions were silenced. News commentator Amy Goodman and her news crew were arrested.
"Iraq is the practice grounds for what is coming to America." That statement summed up part one of this presentation.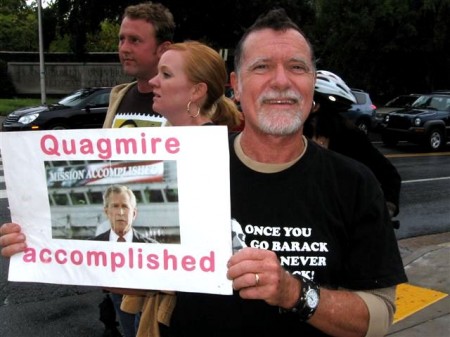 When I took the microphone, I recounted my feelings at seeing a fairly recent film, Across the Universe, which is one of the better anti-war films I've seen. Advertising as "the new Beatles music movie," it begins with the Camelot/Kennedy era innocence, until the scene, circa 1965 or so — frames two soldiers speaking to a mother who crumples to the stoop, having learned her son was killed in Vietnam. Scene shift: young women in little black dresses, white gloves, pearls, standard mourning garb.  I had that dress, those pearls, the pristine gloves. In 1965. '66. '67. '68. '69. And '70. More than once in some years. I protested the war then. Same peace symbol. Same songs. Same handmade signs. I watched this film with a sinking feeling of memory in my gut, a "deja vu" across the decades to now.
I told my listeners how I grew up outside a major northeastern Air Force Base. Years later I became complacent, and moved through midlife and yes, through that earlier Gulf War, taking care of family, work, and all the mundane things.
"When I moved to Tennessee in 2004, I found myself outside another major military base, with another war raging, and suddenly the same symbols, signs, songs and outrage surged. I never thought I'd be doing this again. Not at 58. Forty years, and apparently we haven't learned too much. This time, though, we've added economic disaster to the mix."
I watched as the new incarnation of the SDS (Students for a Democratic Society – and yes, there is an SDS group at APSU too) stepped up to the microphone, calling for young voters to be a "catalyst for change."  Joey King of Veterans for Peace spoke, followed by Liz Barger of the Code Pink ladies. Senate Candidate Chris Lugo. Eric Schechter. Brian Moore, Presidential Candidate for the Socialist Party. Roger Clark of the Nader/Gonzalez presidential ticket. Green Party Senate candidate John Migllietta.
'Debate Ralph Nader' signs were everywhere. As were "Christians for Planned Parenthood." And "'Forecloz' Wall Street."
The song "I Miss America" was sung to the melody of God Bless America, substituting civil liberties losses among other losses American citizens have endured.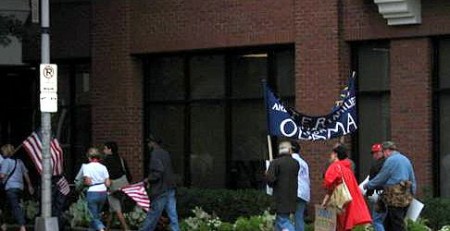 Across the street, a steady line of Obama supporters marched toward Debate Central. A French documentary filmmaker filmed and interviewed our group, among others. The C-Span, CNN and NEA buses passed by, the latter scrolling statements of what Iraq war funding could buy for Americans on the home front. The NEA bus was, for me, the "best of show." Police presence was everywhere, but thankfully not in an aggressive stance. We haven't apparently reached a  point requiring RNC response tactics — yet.
Cars passing by waved, honked their horns, gave the "V" for victory sign. The rain held off. The crowds remained steady, heavy and true.
As Debbie and I left Nashville, the streets were still alive with people carrying signs and banners, with the dozens and dozens of young Green Power group toting pristine white windmills from their designated protest site through downtown.
What was refreshing was the eclectic of mix of people, and more importantly, the energized young people blasted out of complacency by war and economics to take action and stand up to have their voices heard. In them, I saw pieces of myself from forty years ago. It was an honor to share the streets of Nashville not just with those who have done this before, but with those who are finding their political voice for the first time.
The lackluster debate may have meandered over old territory, but it was a brave new world beyond that forum.
All Photos by Debbie Boen. "Across the Universe" frame from Revolution Studios/Sony Pictures.