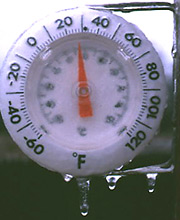 "Baby it's cold outside" is the song of the day, of the week,  as the early onslaught of cold weather seems to be settling in for the winter season with cold heavy rains Wednesday and a surge of frigid air today that turned lingering showers into spurts of sleet and possible snow showers later tonight. Even moderating temperatures on Sunday, when the high is expected to hover in the low 50s, will be short lived.
The greater Clarksville area seems to have skipped autumn altogether, moving strait from hot humid lingering 80s to winter. The proof is in the mittens, mufflers, wool caps, boots  and winter parkas popping up all over town. Even a quick sprint from parked car to supermarket entrance requires a bit of bundling. Waiting for a bus can be a challenge in this blustery cold weather.
Dress warmly and layer clothing
Bundle up! Your wardrobe should contain a warm jacket or coat, sweaters, sweatshirts, sweatpants, and long pants. Mix in some items that can easily add layers of warmth. Turtlenecks and thermal underclothes are ideal. If you need to be outdoors, dress in layers, with a windbreaker or parka to insulate you from the wind.
Always wear a hat, scarf, and gloves or mittens when going outdoors. Don't skip the gloves just because they don't fit your gnarly fingers perfectly. In that case, mittens are a good alternative. Just be sure your hands are covered.
As for boots, forget about being a fashionista: Get boots that are waterproof. You must keep your feet dry if you are going to keep warm. Thick lug soles will keep your feet warmer than those wafer-thin soles on higher-heeled boots.
To be blunt, women's long underwear often has less warmth and texture than men's.  In this age of leggings, wear a warm close fitting knit legging under pants and skirts.
Smart Wool and other high tech socks cost more up front, but wear exceptionally well; they have wicking abilities that keep feet dry as well as warm (Ed: My first pairs of Smart Wools lasted six New England winters of wear — not bad for $12 a pair.)
Don't scrimp on heat
Escalatingb utility costs notwithsatnding, this is not a time to scrimp on heat (especially for the elderly, who are more susceptiable to hypothermia and pneumonia). Scrimping on heat is not an option for arthritis patients. Lowering the thermostat may save money now, but could cost quite a bit more later.
Keep the thermostat at a reasonable setting — a setting that you determine is comfortable. Consider a programmable thermostat that you can set lower for the hours you are away from home, and adjusts to a higher temperature right before you come home. While it's efficient, a programmable thermostat assures you will have a warm temperature when you are at home.
Instead of raising the thersmostat, you can save money by dressing warmly inside your home; top off that  T-shirt or housedress with a sweater; keep your socks and shoes on (or wear houselippers).
Close drapes and/or curtains at night to keep heat in; open them to let sunlight in during the day.
Caroets and area rugs can mitigate the chill of cold linoleum or tile floors.
Make sure that storm windows are tightly fitted.  Caulk drafty windows and use weather stripping around doors and windows.  Use plastic storm windows inside your home if you do not have exterior storm windows.
Plug in some warmth with an electric blanket or heating pad. The electric blanket is more effective for keeping you warm while you are resting or sleeping. For those with arethritis, heating pads are more useful for localized areas where joints have become stiff and painful from the cold weather. Many different electric blankets and heating pads are available. Rice packs (microwaveable now) can be tucked in the foot of your bed for a "bedwarmer" effect.
Think twice before going outdoors
Put on a jacket to run outside to get the mail or to  dash into your car for a quick trip to the store or post office.  All you get cold. So, no quick trips out into the cold without proper clothing and outerwear.
Treat yourself
That steaming cup of tea, coffee or hot chocolate can really warm you up from the inside out. Hot beverages are soothing, comforting, and warming. Start your day or end your day with a hot drink. Hot tea or hot chocolate should be considered staples. Always have them on hand.