The Austin Peay State University Department of Music and the Center of Excellence for Creative Arts continues its Clarksville Community Concert Association's 2008-09 Concert Series with a performance by the acclaimed Imani Winds.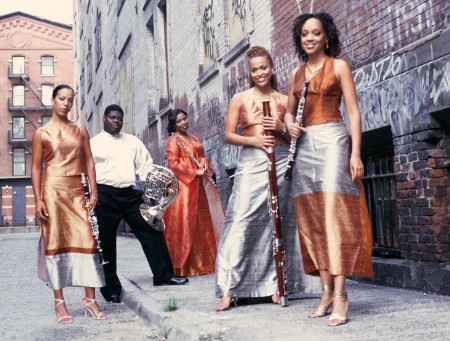 Imani Winds will perform at 7:30 p.m., Friday, Jan. 23, in the Music/Mass Communication Building Concert Hall. Since 1997, this Grammy-nominated wind quintet has taken a unique path, carving out a distinct presence in the classical music world with its dynamic playing, culturally poignant programming, genre-blurring collaborations and inspirational outreach programs. With two-member composers and a deep commitment to commissioning new work, the group is enriching the traditional wind quintet repertoire while meaningfully bridging European, American, African and Latin American traditions.
In the previous season, Imani Winds performed extensively with jazz icon Wayne Shorter, culminating in a summer European tour of jazz festivals in Vienne, France, Lubeck, Germany, Kongsberg, Norway, Copenhagen, Denmark, Limerick, Ireland, and the North Sea Jazz Festival in Rotterdam, Netherlands. In 2008-09, the group will play several engagements with the Shorter Quartet, including dates at Carnegie Hall, Walt Disney Concert Hall in Los Angeles and Is Sanat Art and Culture Centre in Istanbul.
The Clarksville Community Concert Association is a nonprofit organization dedicated to presenting musical performances of high artistic merit and promoting interest in and enjoyment of live concerts throughout the community.
Advanced tickets may be purchased for any of the concerts listed. For more information about advanced tickets or purchasing a subscription, contact Sharon Nass, (931) 647-7288.