Valentine's Day. It's a hyped up holiday that has its own amusements, but the fact is, Valentine's Day should be every day of the year. Without the hype.
It's all about love. Romance. Flowers. Candy. Cards. At least, that what stores across the country are hoping for. And there is really nothing wrong with that. I just think those elements should not be confined to one bright red glossy day of the year.
The flowers and candy are easy. If it really is about love, that's a 24/7, 365 day a year affection. That's the hard part.
It's moving awareness away from self to pick up on your partner's "vibes."
It's taking the time to have eye contact between the hectic comings and goings of the day.
It's saying "I love you" every day as if you may never have the chance to say it again, because sometimes that happens.
It's "just because" flowers — a single bloom, a wildflower bouquet, or a few carefully tended blooms.
It's having supper steaming away because your partner is later  and won't have time to cook for you.
It's taking to time to listen to someone else's "bad day" report.
It's a stack of freshly laundered, neatly folded towels even when it wasn't your turn to do the wash.
It's taking the time to write a note or choose the perfect card when it's not a birthday or holiday.
It's candlelight dinners (at home) just because you can.
It's a phone call in the middle of the day  just to say I love you — every day.
The "Love" issue is not limited to your romantic partner; it applies to anyone and everyone, young, old and in-between, that holds a place in your heart.
Hug your child every morning when they leave for school; take time to talk with them every day,  not just when report cards come in or they need a new pair of jeans or sneakers.
Hold your parent's hand as you take them shopping or for a walk. Don't just hear their voices; listen to what they are saying.
Let your friends know you appreciate them and value them. Same rules apply; sometimes things happen and you'll wish you hadn't waited for a made-up holiday to say you care.
One of the things I personally practice is the old-fashioned craft of letter-writing.
I write letters. Old-fashioned letters, to many of my long-distance friends from childhood — that's 50+ years of friendship that predates e-mail and voice-mail, computers and cells phones. I practice my Catholic School Palmer Method penmanship, and hand write periodic updates in the form of notes and cards and letters. My hand touches the paper as I write, fold, seal. Their hands touch the paper as they unseal, unfold and read. It's an arc of connected touch over the miles. I write because I want to keep in touch and tell my friends and family I love them and think of them, not because it's a designated day to express love and affection.
Okay. So much for the secular. So much for bringing "friends" into the picture.
History, particularly religious history, reaffirms the romantic and sexual roots of this holiday, and tells us that: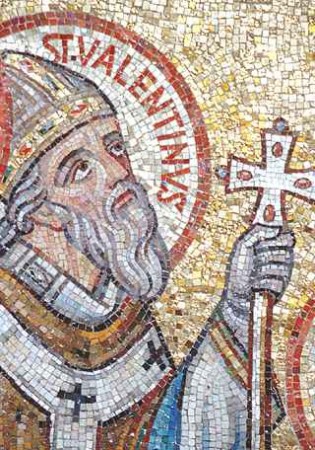 "The origins of St. Valentine's Day lie in the ancient Roman fertility festival Lupercalia, which was celebrated on February 15. During the festival, young women would place their names in a large urn. The young men would draw a name from the urn and then be romantically linked with that young woman for the following year. Still other legends cite the fact that February 14 marked the date when birds began mating.
"Letters can also serve as lifelines for loved ones separated by distance, war, employment and many other circumstances. Or they can help bridge a gap between people who may be fighting or are estranged, and just aren't ready to speak face-to-face." — Catholic Messenger
A current movie, Fire Proof, a Christian film about making marriage (this applies to all relationships) work, views more like a television movie of the week than what I would consider a $9 movie ticket film. But it makes its point as the young husband in a troubled marriage takes a dare and begins to deliberately woo his unhappy wife and put their relationship on sound footing again. Fire Proof, which is enjoying phenomenal box office success,  works to make the point that our relationships — be it friends, lovers, family — take work and takes 365 days a year of effort to sustain.
Valentine's Day is a wonderful opportunity to let the people in your life know how much you love and care about them, but don't get caught up in life's little entrapments to the point where  love is a relegated to a once-a-year expression. Plant small but healthy seeds of love all year long.  You'll be amazed at what will bloom in that garden in every season.