Dunbar Cave held their annual Spring Fling on Saturday May 9th.  Despite the rainfilled beginning, hundreds came out to attend guided nature hikes, see live birds of prey (Raptors), reptiles, and other rescued wildlife.
Over the course of the day's events, visitors took hikes, pausing to look at wildflowers or spot birds along with the general trekking. They learned about bluebirds, backpacking and many other things. Dozens of enthusiastic volunteers helped set up and take down equipment for the event, which was sponsored by the Friends of Dunbar Cave, the Warioto Audubon Chapter, Tennessee Trails Association and TN Wildlife Resources Agency.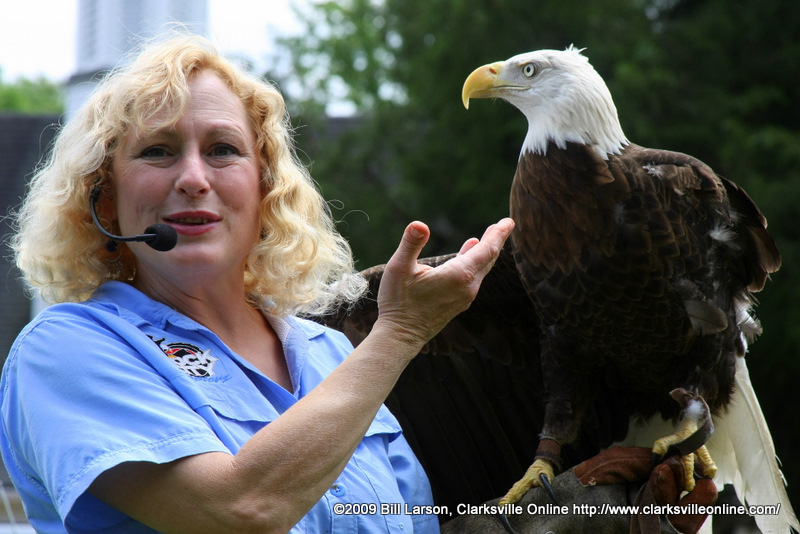 Save Our Raptors is a yearly treat at spring fling. Having the opportunity to see these birds of prey up close up is a thrill for everyone who attends. While teaching the crowd about Raptors they flew them back and forth over the crowd's heads. One gentleman even received a gentle pat on the top of his head by the wing of a Casey the Vulture.
When they asked for volunteers a young woman got the chance of a life time. "Carrie, Do you know your blood type?" they asked. They had her put on "a road kill" apron and lay on the ground pretending to be a vultures favorite treat, it was only a joke. After cluing her in, she allowed Casey to land on her hand after a he finished a flight.
You can learn more about SOAR at their web site.
After SOAR finished entertaining the crowd it was the turn of the Reptiliacs. Donny and Sherry Howell shared stories about their love of snakes and reptiles, all but hypnotizing their audience. "Don't be so anxious to kill snakes," Sherry told us, as she explained that they eat many kinds of pests like mice and rats. They help us more than they hurt us; our fear of them is unfounded. Even when she was bitten by one of her snakes while feeding it, she understood that it was her fault, she says.
Due to high water conditions the annual canoeing on the lake was canceled this year.
The Friends of Dunbar Cave would like to extend their thanks to the Park staff, all those who volunteered, the participants, and the public  for their continued support.
Here are images of the 2009 Spring Fling by Beth Britton, Debbie Boen, and Bill Larson,