Washington – On on May 19th 2009 U.S. Rep. John Tanner, chairman of the Ways and Means Social Security Subcommittee, convened a hearing  covering programs that help Social Security disability beneficiaries return to work, including the Ticket to Work program. The hearing also discussed how to reduce overpayments that sometimes result when the Social Security Administration fails to promptly adjust benefits when an individual returns to work.
Below are Congressman Tanner's opening remarks submitted at the hearing:
Today's hearing focuses on Social Security Administration's (SSA's) employment support programs for individuals receiving Social Security disability benefits. The Social Security disability program provides essential income support for millions of beneficiaries who are completely unable to work due to severe disabilities or health conditions. But some beneficiaries may be able to return to work if given the proper supports.

For decades the Social Security disability program has had policies – known as "work incentives" – that allow beneficiaries to test their ability to work without risk to their benefits, and also to gradually transition off benefits instead of losing them abruptly. But these policies had gaps, and were not enough to eliminate the many barriers beneficiaries with severe impairments face when they try to return to work. In addition, the policies were complex and hard to understand, and many beneficiaries were not even aware that they existed.

In 1999, Congress took additional measures to reduce barriers to work by passing the Ticket to Work and Work Incentives Improvement Act. This legislation, which passed with overwhelming bipartisan support, strengthened the existing work incentives policies and also created several new employment support programs to provide assistance to beneficiaries attempting to work. These programs will be the focus of our hearing today.

First, the legislation established the Ticket to Work program, a program to give beneficiaries greater choice in providers of vocational rehabilitation and employment services. Under this program, beneficiaries receive a "ticket" which they can deposit with the "employment network" of their choice, in exchange for services to help them become employed. This program got off to a disappointing start, with low participation rates among both employment networks and beneficiaries.

Last year, SSA began making a number of changes to improve the program, including issuing long-awaited regulatory changes and increasing marketing and outreach. While it is still too early to assess the final results of these changes, there are some encouraging signs of progress. The number of new employment networks signing up with SSA has increased from an average of 5 per month to an average of 34 per month; the number of Tickets deposited with employment networks has increased by 167 percent; and job starts with the help of an employment network have increased by 83 percent. Of course, the ultimate measure of success will be whether more individuals are able to return to work and end their receipt of benefits as a result of the Ticket and SSA's other employment support programs. I look forward to learning more from SSA and our other witnesses about the impact of the changes to the program and what further improvements are needed.

The hearing will also examine two additional employment support programs: the Protection and Advocacy for Beneficiaries of Social Security (PABSS) program, which provides advocacy services for beneficiaries who are attempting to work, and the Work Incentives Planning and Assistance (WIPA) program. The WIPA program was created to help beneficiaries navigate Social Security's complex maze of work incentive policies. Congress recognized that overburdened SSA field office staff are often not able to provide the in-depth, one-on-one assistance beneficiaries need to fully understand the work incentives and the effect that working would have on their benefits. Under the WIPA program, this critical personalized assistance is provided by community-based organizations, with funding from SSA.

The WIPA and PABSS programs are both due for reauthorization this fall. Today the Subcommittee will examine how well these programs are serving disability beneficiaries, and what issues Congress should consider as we contemplate reauthorization.

Finally, I want to express my concern about the many reports we have received – most recently from the SSA Inspector General – about SSA's delays in processing reports of earnings by disability beneficiaries. These delays mean that many individuals who return to work continue receiving benefits long after they should have been terminated. For the past decade, SSA's administrative funding was been woefully inadequate to process incoming claims timely and accomplish the many workloads that Congress has assigned the agency, and I understand that this is the reason that earnings reports become backlogged. But delays in processing these reports are particularly harmful because they hurt both beneficiaries and the American taxpayer. Because of these delays, beneficiaries who lose eligibility for benefits due to work can end up owing the agency tens of thousands of dollars, even when they have properly reported their earnings. The fear of these large overpayments may discourage some beneficiaries from even attempting to work. In addition, SSA may have trouble recouping overpaid funds from low-earning former beneficiaries, resulting in losses to the Social Security Trust Fund, and ultimately to taxpayers. I look forward to hearing about SSA's plans for improving this situation.

We will hear today from a variety of witnesses involved in providing employment support for disability beneficiaries. But perhaps most important, we are fortunate to have with us today individuals who themselves have successfully returned to work despite their significant disabilities. I look forward to hearing their firsthand experiences.

Finally, I would like to thank Ranking Member Sam Johnson and the other Members of the Subcommittee for their commitment to ensuring that those with severe disabilities have the opportunity to attempt to return to work, and for the spirit of bipartisanship that has been so much a part of this process.
For more information contact Randy Ford at 202.225.4714 or via email at
About Congressman John Tanner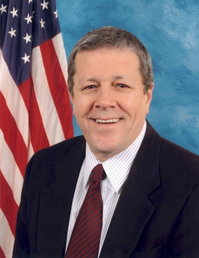 A veteran of the U.S. Navy and the Tennessee Army National Guard, Tanner represents the 8th Congressional District in West and Middle Tennessee. Co-founder of the fiscally conservative Blue Dog Democrats, Tanner serves on the Ways and Means Committee, where he chairs the Social Security Subcommittee, and on the Foreign Affairs Committee. He chairs the U.S. delegation to the NATO Parliamentary Assembly and is serving a two-year term as NATO PA President.