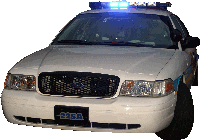 A new television program "First Responders" whichwill honor those who oftentimes put their lives on the line for us in emergency situations.  The program will begin airing on Tuesday, May 26th, at 8:00 PM. Ongoing weekly airings of "First Responders" will run at 8:00 PM Tuesday & Thursday, 5:00 PM Saturday and at 11:30 PM Saturday for those unable to watch daytime television.
Hosted by Chaplain Ted Denny of the Sheriff's Department,  "First Responders" will cover stories and interviews with leaders in the community involved with emergency situations.  The inaugural launch of "First Responders" will feature our very own Sheriff Norman Lewis.  Tune in to hear about his background and the inner workings of the Sheriff's Department.  Chaplain Denny commented, "I am personally honored to be hosting this new local program and that it serves our community."
Future programs will not only delve deeper into the Sheriff's Department, but all of Clarksville's emergency departments; Police, Fire, Ambulance.  Other community leaders like Mayors Piper and Bowers, will be invited from time to time to discuss how our overall governments deal with all types of emergencies.  "Helping to educate our citizens is a primary goal for this new program and at The New TV9 we are dedicated to strengthening families and the community at large," said Dan Calderon, Owner/Operator of WCKV – TV9, Clarksville's only FCC Licensed Broadcast TV Station, .
The lead sponsor for this program is McReynolds-Nave & Larson Funeral Home.  "We are proud to be involved with bringing this local, high quality television program to Clarksville, especially since it honors those who deserve honor," said Ed Larson, Director of McReynolds-Nave & Larson.
Comments and suggestions for TV programming are welcome by WCKV.
About WCKV
WCKV, Clarksville's only FCC licensed Broadcast TV Station, transmits its signal from downtown Clarksville on antenna Ch-49 and is carried by Charter on cable Ch-9.  CDE LightBand will carry the signal on Ch-9 in the near future.  WCKV has recently started carrying programming from My Family TV, a national network specializing in 100% clean, wholesome, family-friendly TV programming.
For additional information on the station, contact Dan Calderon at 931-274-0920 or email to .