Topic: Sheriff Norman Lewis

Clarksville TN – When Sheriff Norman Lewis died last year, Montgomery County lost a very powerful and  popular public figure.  Norman Lewis left a legacy that would be hard to follow.  The Sheriff of Montgomery County has had a history of being a tough, "no nonsense" lawman, who was a powerful, influential, commanding, and politically connected figure.
Remember Joel Plummer?
Well, meet Sheriff John Fuson.
«Read the rest of this article»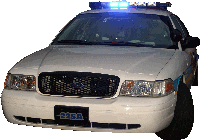 A new television program "First Responders" whichwill honor those who oftentimes put their lives on the line for us in emergency situations.  The program will begin airing on Tuesday, May 26th, at 8:00 PM. Ongoing weekly airings of "First Responders" will run at 8:00 PM Tuesday & Thursday, 5:00 PM Saturday and at 11:30 PM Saturday for those unable to watch daytime television.
Hosted by Chaplain Ted Denny of the Sheriff's Department,  "First Responders" will cover stories and interviews with leaders in the community involved with emergency situations.  The inaugural launch of "First Responders" will feature our very own Sheriff Norman Lewis.  Tune in to hear about his background and the inner workings of the Sheriff's Department.  Chaplain Denny commented, "I am personally honored to be hosting this new local program and that it serves our community." «Read the rest of this article»
Local volunteers for the January 17 "National Day of Service" turned out at Loaves and Fishes Soup Kitchen to prepare and serve the day's meal — chili con carne — and accept monetary and food donations for this program, which serves approximately 200 meals a day, six days a week, to Clarksville's families in need.
Clarksville for Obama coordinated the event, which was designed as part of the President-elect Barack Obama's commitment to community service. Event coordinator Terry McMoore hosted the event, citing a need for communities to "get back to the basics to make life better for everyone."
Loaves and Fishes Manager Mike O'Connell was grateful for the outpouring of community support, and accepted a number of monetary donations from the NAACP and the Montgomery County Sheriff's Office, along with the stream of food donations. «Read the rest of this article»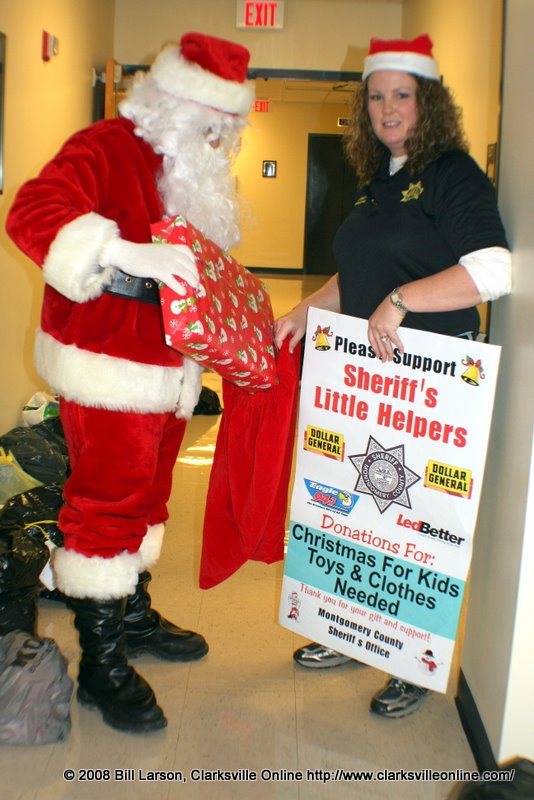 Christmas became a lot brighter today for 235 children including many at Fort Campbell. The Montgomery County Sheriff's Department, working as "Santa's Little Helpers", in cooperation with Eagle 94.3, Dollar General,  Ledbetter's (signs), and Golden Rule completed delivery of hundreds of holiday toys that had been collected from local churches, business and the general public. The beneficiaries of this effort include the Fuel Program,  Montgomery County Head Start and the Wounded Warriors.
Thousands of donated items were sorted by age and gender, and every effort was made to get the toys matched up with the individual wishes of the children registered for this program, according to Julie Wright, administrator of the program. In one case, gift wrappers weren't sure if the child named was a boy or girl, so volunteers packaged gifts for each gender. «Read the rest of this article»
For the Lewis Brothers, Gene and Orville, their retirement celebration was a time of family and friends coming together. A multi-generational festival sees football scrimmages and ball tosses by the youngsters amid a plentiful spread of traditional holiday family-style buffet fare.
Most people happily look forward to a single retirement celebration. However that was too limiting for the brothers Gene and Orville Lewis of Woodlawn. Saturday afternoon, at the Lewis Family farm, the two brothers held a double retirement celebration with family, friends and work colleagues all invited to sit down to some fabulous home-cooked treats. «Read the rest of this article»
Montgomery County Democrats celebrate opening of Election 2008 Campaign Headquarters with ribbon cutting and festive atmosphere! Local party officials and representatives turn out for jubilant event!

With the handicap access ramp's paint scent still fresh in the air, Tuesday evening saw the Montgomery County Democratic Party, (MCDP), host a jubilant election headquarters grand opening. Party officials, elected representatives and 'names to remember' were on hand to mark the event. The ribbon cutting at 534 Madison Street was marked with congratulatory thanks to all the supporters who came out to the event. The office will be open from 2-5 p.m. until the Democratic Convention is over; after the convention, it will be open full time. «Read the rest of this article»